Residents want more transparency after removal of beloved Roxbury mural
A beloved mural in Roxbury with a painting of the late Nelson Mandela, known among the community here as the "Roxbury Love" mural was demolished this week to make way for a new development project and this left mixed reactions among residents. 
"It's not right to leave people misplaced, you've been stripped of memories and how you grew up," said former resident Lindsey Briggs, "People do not understand the community and pride that we take on a mural like that."
On July 24, resident's woke up to find the beloved mural broken to the ground. Residents took to Twitter to share their frustrations, expressing that they were not aware of the city's plans to bring down the mural. 
The development project is expected to bring nearly 100 income-restricted homes to Warren Street, and a new Cruz headquarters. The artwork will be recommissed to a new location, according to a statement from Kara Elliott-Ortega, chief of arts and culture for the City of Boston. The new location for the mural is not yet clear.
For Briggs, who was raised in the Roxbury area by Monroe Street and for many Roxbury residents, the mural was a significant landmark that created a sense of community. 
"When it was built, it was a big staple in the community. They are tearing something down that represents our community just to build something we cannot afford," said Briggs.
She said she also feels the placement of the mural for apartments in the area is a sign of gentrification.
"Yes we know gentrification is happening but there's no care with what was there before," said Briggs "There was a way that they could at least keep some of it, a lot of people are sad because that is a part of our community that is gone."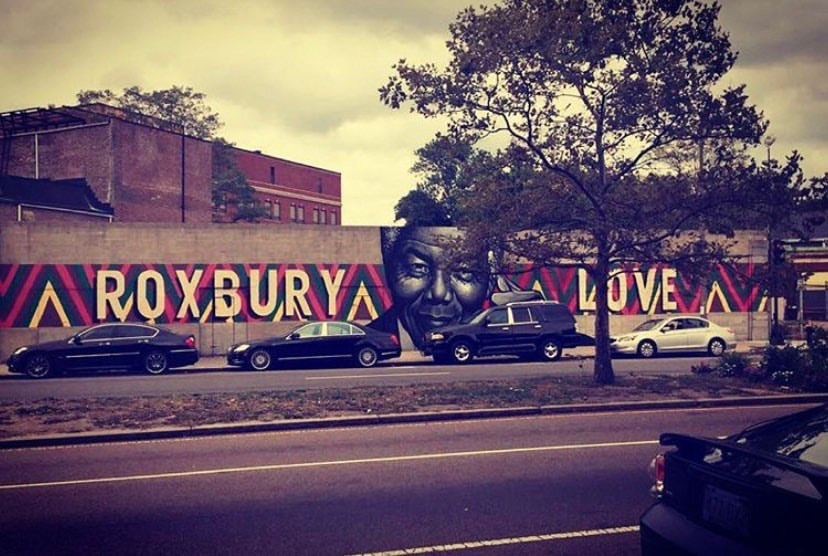 The representation of Nelson Mandela in the mural is a recognition to the rich culture of Roxbury. The mural was built by local street artists including Richard Gomez and Thomas Burns in 2014 to honor Nelson Madela's visit to Boston in 1990. It took a total of 4 days to complete the mural and it quickly became a landmark of Roxbury.  
Former street artist and singer Palaiah "Auset" Yisrael, who was born and raised in Roxbury, recalled the time when she struck a conversation with the artists who were working on the mural.
"I remember I was coming home from work and I saw them finishing it up, I stopped by and we were just talking. At the time I did not realize the impact it was gonna have in the community," said Yisrael.
She said, for her, the mural represented the intellectual love in the black community. "The mural was a beautiful sight to see. Mandela represents a freedom fighter, he fought for freedom for a long time in Africa but obviously impacted us here in America."
However, Yisrael is optimistic about the new mural and hopes that the new artwork will have the same impact as "Roxbury Love" did.
"There's a lot of information about the community being upset about it being torn down but I feel like that was always going to be the case, again, because that building wasn't being used and they were going to tear down that space at some point anyways," she said. "We can't hold on to everything. Life changes, things change and we have to make ways for life to just expand, grow, and to create new art. There will be some new art that will be created and will be just as awesome and just as meaningful," said Yisrael.
The City has not yet announced the artists who will work on the recommissioned mural but Briggs said she hopes it will be created by local street artists like the ones who painted the original. 
"I believe that the city should provide clarity on where they are going to put the new mural. I think it should be somewhere in Roxbury because that is where Mandela visited," said Marjorie Hicks, program coordinator at Roxbury Action, a group founded in Roxbury in 1968 by local residents to undertake tasks to prevent the further decay in Highland Park. 
Although the organization hasn't publicly spoken about their thoughts on the destruction of the mural, Hicks said that residents should be kept on the loop at all times before such a change happens.
"There should have been a conversation with leaders of what it could have come about," said Briggs, "Nothing really can replace it. Just because it is newer it doesn't mean that it is better but moving forward be transparent with the people that occupy the space, stop keeping things under rags, if we are gonna be a better city community and town, we are gonna have to be transparent."