Boston Public Library Program Brings Books to Vulnerable Citizens During COVID-19
With books purchased from local, independent bookstores and delivered to nonprofits serving diverse populations in Boston.
The Boston Public Library is one of the few public spaces where many marginalized community members, those who are unhoused or who don't have technology and Internet access, feel welcomed. So when the Library closed in March due to COVID-19, its staff quickly put together and launched the Books for Boston program to serve its most vulnerable patrons.
The program provides books for community members who are not comfortable using technology or don't have access to electronic devices or reliable Internet connection. The Boston Public Library (BPL) purchases new books from local bookstores and delivers them to nonprofits serving a diverse range of vulnerable citizens. 
"We were trying to think of ways to help deliver books during a time when people were being told to stay home. Books provide so much for education and for entertainment and to pass time or relieve stress," said Collection Development Manager for the BPL Melissa Andrews. "We distributed books to serve community health organizations, elder care organizations, organizations providing meals to families and children, shelters and places where homeless patrons could access services."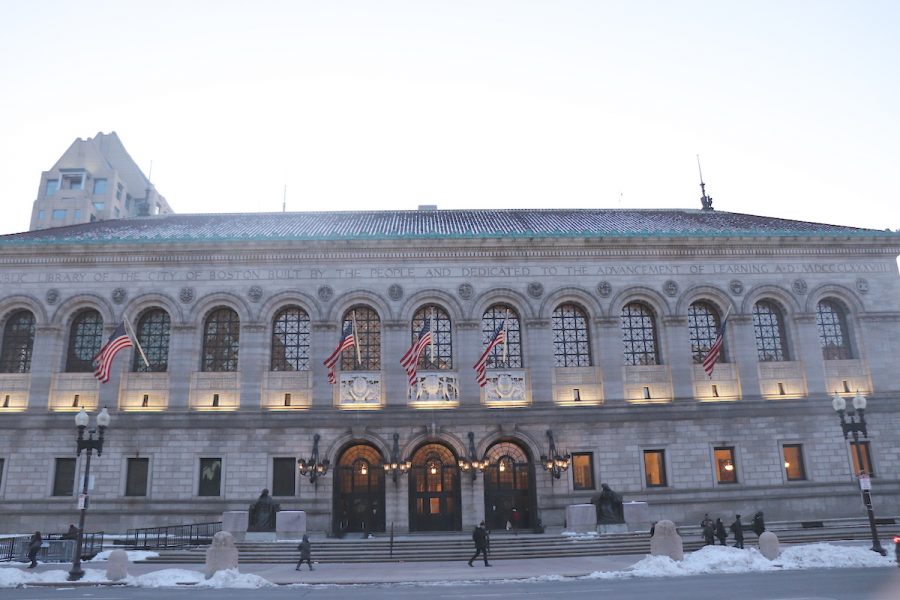 One of the challenges organizers faced was to deliver books to patrons while making sure that their staff are not over-handling the books or transmitting COVID-19. They turned to local independent bookstores to deliver new books pulled from their inventory in a quick turnover to nonprofits. This was a twofold benefit, said Andrews, as the bookstores were businesses heavily impacted by the shutdown as well. 
The types of books donated depend on each organization's needs, whether it is picture books for children or Spanish books for Spanish speakers, Andrew said. "Graphic novels were very popular and something that we bought a lot of, or we tried to buy large print or hardcover books for elder populations where they would be able to see and hold the book." The program has purchased books from local bookstores including Trident Booksellers in downtown Boston, Frugal Books in Roxbury, Brookline Booksmith and Cambridge's Porter Square Books.  
"It has been truly impactful to have the Boston Public Library give us their support during the pandemic. They have allowed us to do what we do best — put books in the hands of readers," said Courtney Flynn, vice president of Trident Booksellers and Cafe in an email interview. "There are not as many ways for communities to get books now because of library closures and people needing to stay home. The fund has hopefully created a way for people to stay connected with reading, which can be a wonderful escape during challenging times."
Originally, the BPL's goal was to distribute 5,000 books but after the program wrapped up recently, Andrews said they had distributed over 11,000 books to 22 nonprofits in the Boston area. "It really exceeded everyone's expectation and how much money we were able to fundraise, how many books we were able to actually distribute," she said.
"
"One specific donation we got was the Harry Potter series. So I started reading the Harry Potter books chapter by chapter for the groups. That was tremendous, just to give people that.""
— Travis Henderson
The Boston Health Care for the Homeless Program (BHCHP) was among the sites receiving books from the program. Social Worker at BHCHP Travis Henderson said the donation helped them cater to both COVID-19 positive patients and patients struggling with addiction, trauma and complex medical needs. 
Before COVID-19, Henderson said, the BHCHP welcomed volunteers outside of the program who would come in to engage and support patients through activities like weekly bingo days, a writing group or play with therapy dogs. When COVID-19 happened, all of that went away. 
When the BHCHP received the book donation, Henderson and two other AmeriCorps members worked together to figure out who would receive the books. Seeing how tough it was for COVID-19 positive patients who are battling addiction to be in quarantine, they decided to make welcoming packages that include word searches, colored pencils and anything the team thinks could provide social engagement and interaction for patients entering isolation. 
"A lot of the donations we got were activity books: The New York Times crossword, word searches," Henderson said. "We eventually started making like, we called them the world's most depressing welcome package, but really they were saying: 'Thank you for being here. Thank you for allowing yourself to be put in a place to keep other people safe.'" 
For patients in the program who are not positive for COVID-19. Henderson said he and another social worker started an activity group for people to get out of the room for an hour while maintaining social distancing. "One specific donation we got was the Harry Potter series," he said. "So I started reading the Harry Potter books chapter by chapter for the groups. That was tremendous, just to give people that."
"The donation of the Boston library program, it really demonstrates just how much love, how much empathy and how much we can support each other when time gets tough," said Henderson. "So I have nothing but gratitude around the program."
"
"It was an interesting opportunity to provide some joy and provide these new titles and not just the same old, used books we always have. It was just good to be able to have something joyous and new and fresh and some semblance of normal.""
— Crystal Galvin
The Kennedy Center in Charlestown was also among the first sites to receive books from the Books for Boston program. Director of Community Services at the Center Crystal Galvin said the books opened up an opportunity for the center to develop connections with new members of the community and older adults who felt either isolated or missed that social connection the library provides.
When the stay at home order was issued, the Kennedy Center, a nonprofit offering early education, eldercare and other social services, started providing a grab and go meal site and other necessities for children and later, adults. 
"A lot of it was very, you know, nuts and bolts like we need food, we need gift cards, we need to know where we can get tested," Galvin said. But the center was looking for ways to offer new types of services to make the site more welcoming. "We had a core group of regulars and so you want to be able to keep things fresh and inviting despite the circumstances," said Galvin. With the books they receive from the Books for Boston program, the center was able to offer a different resource for its clients. 
"The seniors in particular really responded well to getting books," she said. As a result of this initiative by the BPL, the center also met new clients who would not have participated in their programs prior to COVID-19 but came because they want new books and because they miss the connection to the library.
"It was an interesting opportunity to provide some joy and provide these new titles and not just the same old, used books we always have," Galvin said. "It was just good to be able to have something joyous and new and fresh and some semblance of normal."