Changemaker: Eve Abraha cooks meals for strangers during COVID-19
Biology student Eve Abraha was wrapping up her junior year at Tufts University; she did informal hair braiding from her home at Medford and had a job, but that didn't stop her from starting to make food and distribute it to those in need during the public health emergency COVID-19 to make sure some members of the community have the resources they need.
Since the start of July, Abraha has been cooking and delivering 40 homemade meals in biodegradable containers each week, at her own expense, to those in need near Boston Medical Center. Her full-time internship at the Federal Home Loan Bank of Boston helps her cover the expenses to make and deliver the meals.
Abraha's initiative is inspired by her work in March as a project coordinator at Building Audacity, a nonprofit providing programs aimed at building leadership skills for youths, among other things. In this role, she reached out to vendors to encourage them to make food donations. Abraha and Building Audacity were able to deliver about three to five days worth of groceries to over 500 families in the East Massachusetts area over a three to four month period with the help of volunteers from Boston and at Tufts University.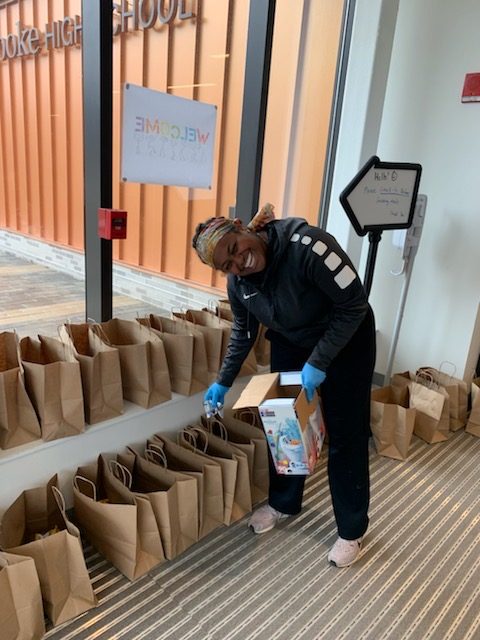 Going forward, Abraha hopes to start an organization and recruit volunteers to continue her initiative. She has begun looking for grants and was offered partial sponsorship from Building Audacity but is still looking for additional grants to help her jumpstart the organization. 
Abraha shared her story and discussed her current work and next steps with the Scope. The following transcript was edited for length and clarity.
Q: What areas do you deliver your homemade food to? 
A: I specifically deliver, right now, only to people in Massachusetts Avenue, right by the Boston Medical Center. Right there, that is like the epicentre of drug abuse specifically heroin. Heroin is a big issue there, so they have drug addiction and they are dealing with homelessness. 
Q: What was your motivation in delivering food to this community?
A: A big reason why I am in tune with them is because, when it comes to depression and trauma, people treat it as if it's not a big deal. But it is a big deal. Trauma and depression literally leads you to doing things you will never imagine. For these people, it took them to the point to do drugs for them to feel numb to the world, you know? … I resonate to that feeling sometimes when I am feeling down because of the trauma that I endured and that I continue to endure … I think that's  kind of where I get my empathy from, because I am like "How would I want people to support me,"  you know? Like I want people to help me when I am hurting and so what can I do for these people to help them? Empathy and caring for others is what really drives me. 
"
If you have two crumbs of food, you share your crumbs with others. If you have one, you give it away.
— Eve Abraha
Q: Why do you choose to make homemade meals instead of getting ready cooked food from the store? 
A: It's expensive to buy premade things. In addition, some of the groceries that I use to make these foods are donated. I would ask my friends for food they won't use because in the end I want people to be able to be involved in this. Not everyone wants to deliver food right? Not everyone wants to make food, but some want to donate so I let them donate. I want everyone to feel like they can help in some way.
Q: How do you finance the food besides donation? 
A: Honestly, I have a job so it's easy. That's it, I have a job. People think it is burdensome to make like 50 meals [per week] but I can make 50 meals and I can spend maybe like 30 bucks! It really depends on the meals, I am trying to up my meals to make it nutritional and more quality so what I will estimate for 50 people is $30 to $50 and that doesn't really make a big dent in my account.
Q: What makes you feel most proud of your work?
A: Community organizing is beautiful. There's a quote I live by and it reads like this: "I don't know how to tell you that you should care about others." That's it. That's the standard I live by. If you have two crumbs of food, you share your crumbs with others. If you have one, you give it away. I personally am a strong advocate for distributing wealth. Sharing with others is so critical and truly is the epitome of caring for others. Giving and not expecting to receive is important. At the end of the day, these are humans who deserve just the same as the rest of us.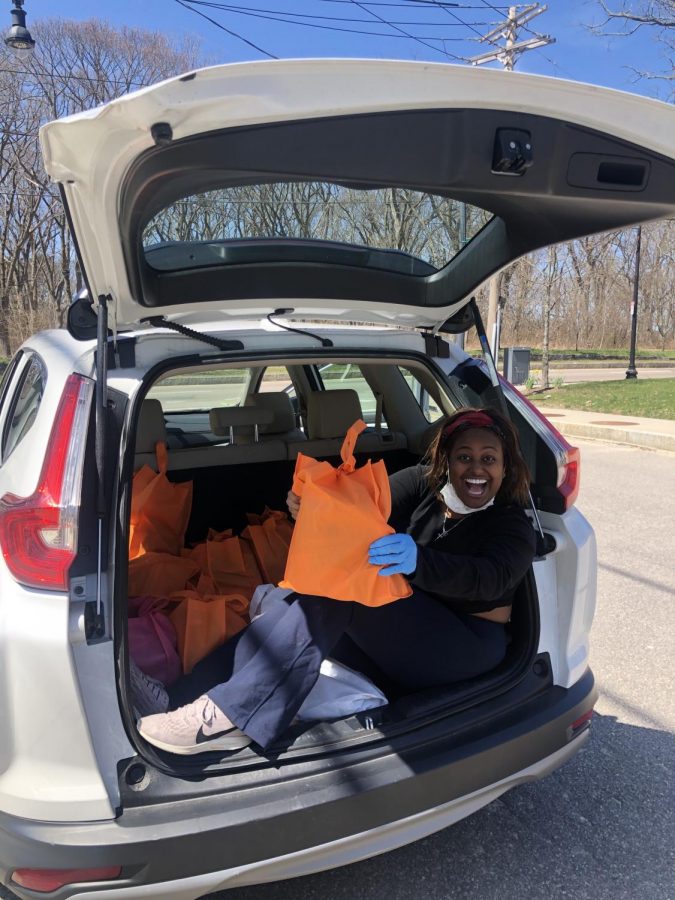 Q: What keeps you going?
A: What keeps me going is how people express their gratitude for feeling love, everyone deserves to be loved. I don't know if I am making changes, I haven't done this long enough, but what I can tell you is that when I do this people seem happy and appreciative.
Q: What's your plan going forward? 
A: I am trying to get grants that provide funding to do this work. Mainly I want funding to buy the food, the biodegradable containers and then for me specifically, I need money to get a car. I have been using ZipCars to move around and it is just so expensive. If I want to do it more frequently I need a car, but my main priority is how are we going to fund the food and how are we going to fund the biodegradable containers, because the more food I can buy and the more containers I can buy, the more food I can provide. 
Organizations and individuals wanting to get in touch with Abraha can do so at: eveabraha at gmail dot com.