Boston walks to fight homelessness
Bundled up against the morning chill, around 1900 people gathered in Copley Square Sunday, Feb. 9, to raise money and awareness for the homeless surviving winter on the notoriously cold streets of Boston. 
For the fourth consecutive year, the 2-mile Winter Walk took participants, both housed and homeless, down Boylston Street, around Boston Common and finished back in Copley Square. Donated breakfast sandwiches, coffee and hot chocolate were on-hand to keep walkers warm, and music performances to keep the rhythm going. 
"[Winter Walk] creates awareness by bringing people to a setting where everyone walks together in the coldest month of the year," said Winter Walk Boston's executive director, Ari Barbanell in an interview before the event. "When everyone walks wearing their coat, it's impossible to say who slept last night on a bed or in the street."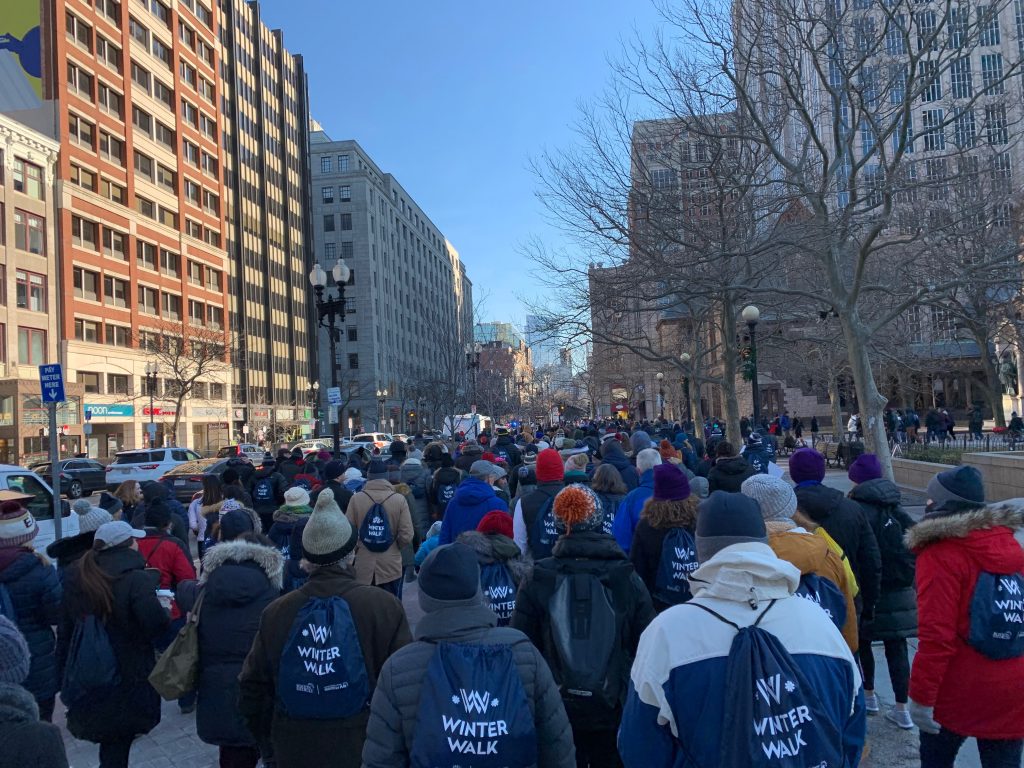 Winter Walk is designed to give participants a sense of what it is like to live outdoors during a New England winter, explained Barbanell. 
The walk follows a year of hard fundraising, after which organizers distribute the money they have collected to nonprofit organizations in the Greater Boston Area fighting homelessness in the city, like FamilyAid Boston, Pine Street Inn, and Boston Rescue Mission. This year, the group raised $210,000 from walkers and $275,000 from sponsors, their most profitable year yet, according to organizers. 
Elba Marcillo, chief financial officer for FamilyAid Boston, said homelessness has been growing around 4% in Boston. She attended the event with her husband, David Marcillo.  
"We want people to be aware that it's not a crisis for individuals alone, it's a crisis for families," Marcillo said.
According to the 2019 annual Homeless Census conducted by the City of Boston, around 2,340 people in the city are homeless.
"Numbers are growing across the country, you can count at least 600,000 people that are homeless, that's like 9% more than a year ago," said Jim O' Connell, a doctor from the Boston Health Care for the Homeless program. 
He later praised Boston-based organizations and their work fundraising, volunteering, providing meal services and street outreach. 
Denis Gaskell, formerly homeless, who battled alcoholism, shared his own story with the crowd.
Gaskell arrived at the Boston Rescue Mission 20 years ago seeking help. After receiving the needed support, he got sober and currently manages the kitchen for the mission. He now hopes the Boston community will "make sure that all our brothers are safe, clean and sheltered."
"There is hope out there, we are an example of hope," he said. 
Families, colleagues and friends from different communities attended the walk to support the cause. This event was a first for Ellen Beyerle, who walked with her husband Chad and their 11-year-old twins, Billy and Bobby. 
"Today we are walking as a team," said Beyerle,  whose employer is one of the event sponsors. "This is our first time here as a family, but not our last." 
https://thescopeboston.org/news/photo-essay-boston-winter-walk/
For Louise Quinton, a Boston resident in her 60s, it was her third Winter Walk. This time, she brought along her sister Teresa Quinton and her Labrador, Ruby. 
"This is my first year," said Teresa Quinton. "I came because it's an important issue that everyone needs to be aware of and work together for a good solution." 
From the event stage, Rev. Laura Everett, executive director of the Massachusetts Council of Churches, invited the crowd to pray together before beginning the walk. The entire crowd raised their voice to exclaim together "Amen" and started walking.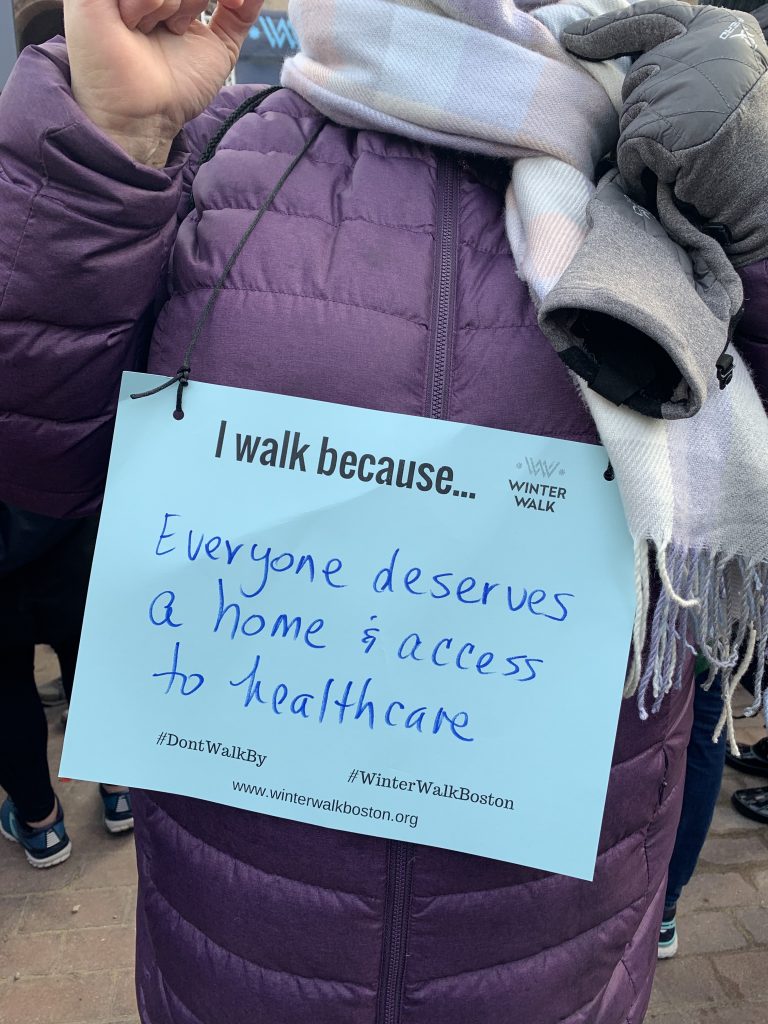 Most attendees carried signs around their necks that read "I walk because …" with a line to fill in a personal motivation. 19-year-old Gordon College student Tiffany Laterra, from Wenham, filled in her sign with the phrase "God is love." 
"I'm really passionate about advocating for the rights of those struggling with homelessness and showing love for those living out in the streets," Laterra said. "God loves every single person here, with home or not." 
55-year-old Laurlene Hardy said she walks because she wants to make housing available to all. 
"It's unfortunate that here in Massachusetts we don't have affordable housing for everybody, especially veteran people that don't have relatives," said Hardy. "It's freezing today and I can't even imagine living in the streets even with warm clothing. That's not good for your body and it's not healthy."
In Copley Square, MANNA, Boston's homeless community choral ensemble, performed a version of John Denver's "Take Me Home, Country Roads," and many sang along.
Later, Boston-based band Copilot performed. The band finished their set by singing Bill Withers's "Lean on Me."
Barbanell was pleased with event turn out, and hoped organizations and individuals continue to work together.
"[The walk] is quite a joyful experience when we celebrate dignity, respect, and kindness," said Barbanell. "[Homeless people] are part of our community too."
Correction: A earlier version of this story misspelled Ari Barbanell's last name. It has been corrected.