The nation's first ever Trauma Spa is seeking to open in Boston in the spring of 2020, but first its founders need to raise $700,000. 
This first-of-its-kind spa will offer relaxing health and beauty treatments designed to relieve the symptoms of Post Traumatic Stress Disorder, and will cater specifically to African American men and women traumatized by the murder of a loved one. 
Mary Franklin, creator of Trauma Spa, is one of these survivors. Her husband, Melvin Franklin, was murdered in 1996. As a result of his death, Franklin developed PTSD, although she wasn't officially diagnosed until about two years ago. 
She came up with the idea for the Trauma Spa while on a vacation in Florida, the first trip she said she had taken in 15 years. While on vacation, her friends took her to a spa where she noticed something extraordinary. 
"When I left the spa, my symptoms had decreased by 80 percent and they subsided for well over a month," Franklin said. "I was able to think more clearly. I felt better about myself and I had more energy."
Franklin was eager to share her new discovery. 
"I wanted to talk and think about people like myself, these unidentified, really not well known survivors, who have had an immediate family member murdered," Franklin said. 
She recognized that she was in a position to impact the lives of fellow survivors and took advantage of this by creating Trauma Spa, which is looking at locations in Roxbury, Dorchester or Mattapan. 
Denise Brown, the project's fundraising coordinator, emphasized the need for their new venture to bring survivors together.
"In urban communities, there is a huge need for survivors to have a place where they can go to be with other survivors and understand what they are going through," Brown said. "This will give them an outlet where they can connect with other people like themselves. It can be a lonely dark road when your loved one has been murdered and there is no one there to assist you."
Trauma Spa is coming together with the help of Boston Medical Center and Boston University's School of Social Work. Both organizations are working with Franklin on the organization of Trauma Spa's pilot, and plan to research the effectiveness of the programs.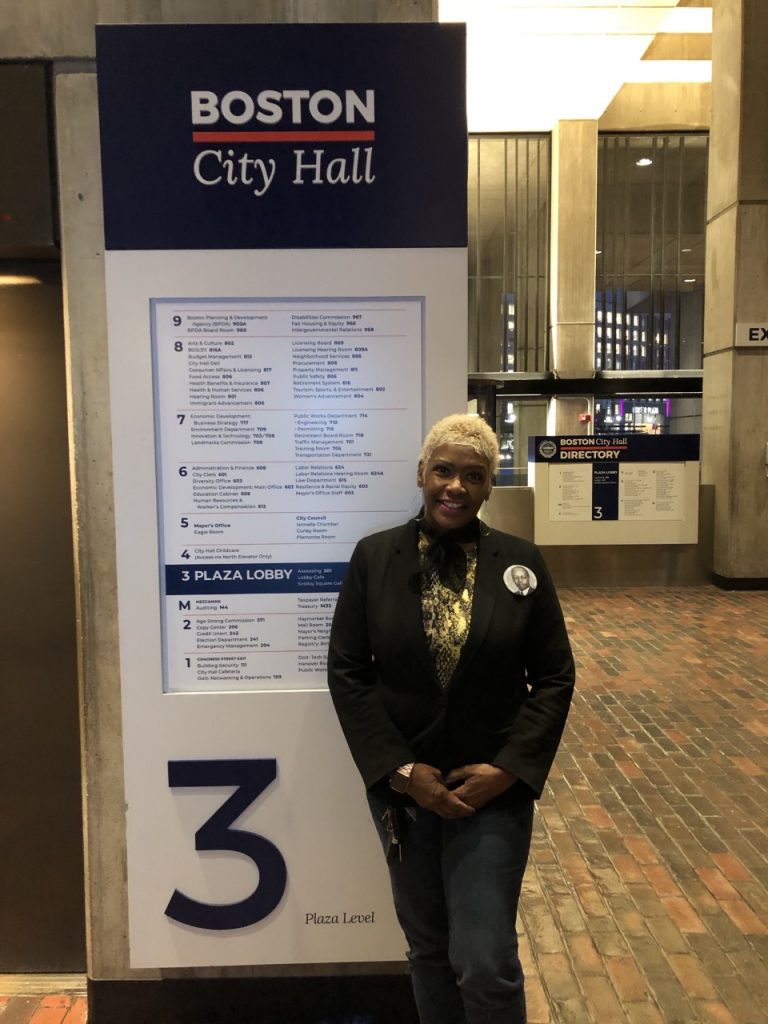 Dr. Katherine Gergen Barnett, the vice chair of primary care innovation and transformation and the residency director of family medicine at Boston Medical Center, was shocked that something like Trauma Spa did not exist already. She sees Trauma Spa "as a unique opportunity to address PTSD, not just in hospitals and clinics, but in the community," she said.
Gergen Barnett described the pilot of Trauma Spa as an eight week trial where "100 people, 75 women and 25 men, all of whom had been diagnosed with PTSD and are survivors of homicide, will receive mental health and spa services."  
When the pilot starts, Boston University, in collaboration with Boston Medical Center, will spend a year evaluating it. 
Services at the spa will include facials, massages, reiki healing, acupuncture, manicures and pedicures. It will be staffed by African American licensed professionals. 
Uniquely, Trauma Spa will also offer sound therapy. Stephanie Woods, the spa's sound therapist, will use himalayan singing bowls and gongs to help people relax. 
"I will place bowls around the person and play pleasing music so they can relax," Woods said. "The bowls themselves admit a whole octave of notes which exposes people to many different tones and vibrations. The body then remembers this music and these notes." 
Certain therapies may make some people nervous or anxious. Sound therapy provides an alternative outlet for these people. 
"Most people don't want to go to traditional therapy, so sound therapy is noninvasive and a pleasant way for someone to be able to relax. It can give people relief that they would not have access to ordinarily and can last a few days or more," Woods said.
Lisa Lewis, a psychology professor at Northeastern University, said the Trauma Spa could be an effective mental health resource because it allows people "to feel safe in a nurturing environment which will be very therapeutic for trauma survivors."
According to Lewis, PTSD can cause a person to be hypervigilant, to feel on edge or unsafe, to have a depressed mood and a startled response to certain things, to experience nightmares, flashbacks and anxiety and to avoid situations that remind them of the trauma. 
Typical treatments for PTSD include exposure therapy, EMDR (Eye Movement Desensitization and Reprocessing), support groups and traditional psychotherapy. 
Many people with PTSD, however, don't receive any help at all. This was true for Franklin, and she knew others in similar situations.
"Most of the time, their crime is unsolved and they don't have services to address their emotional symptoms from that murder," Franklin said. "No one was talking about the emotional impact that having a loved one murdered, what it does to you and the fact that we have to continue to live in violent communities, being triggered almost every single day."  
More than 3,000 people were murdered in Boston between 2000 and 2018. That's an average of 158 people per year. Those crimes, Franklin says, have long-term impacts on victims' families. 
"After the burial, the doorbell stops ringing," she said." The food isn't brought over anymore because for some reason, people think when the victim is buried that you're fine. However, that is when you need support the most. Trauma Spa will be there the day after death notification, we're there once the burial takes place, and guess what, we will still be there if they need us later."
Eventually, Franklin would like to see similar spas open in cities across the country. Chicago and South Carolina have already reached out to Franklin about possibly opening such facilities there.
These are long-term goals and, for now, Franklin is focusing on raising support for the Trauma Spa pilot in Boston, accepting donations and looking for volunteers.