Damali Vidot, Chelsea's city council president, faced the window overlooking the coast of Chelsea Creek. She shifted in her chair, and talked about the air pollution currently affecting the city, located just north of Boston.
"I see it in the health of myself and family and neighbors and friends," she said. "We have really high rates of asthma."
Vidot paused, allowing the roar of conversation on the opposite side of the room fill her silence. "It is absolutely a silent killer," she added.
Vidot was one of approximately 75 residents who attended a strategic planning session on environmental issues hosted by Greenroots, a Chelsea-based environmental justice organization. 
She and dozens of concerned community members attended the session, held on a recent Saturday in November, to come up with an action plan: one that will address the environmental problems Chelsea has been experiencing and what they need to do to fix them.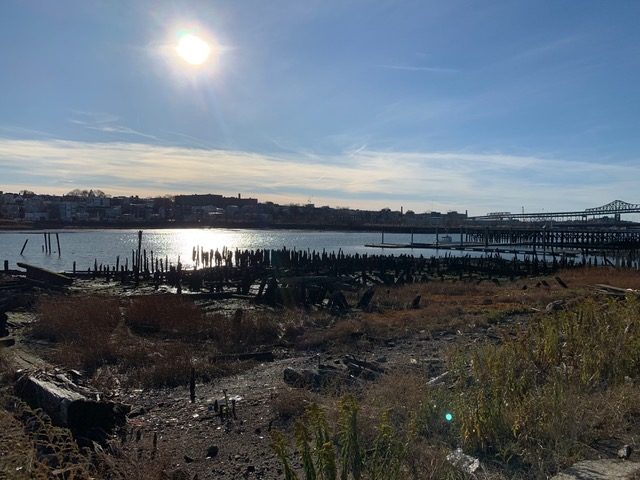 Environmental hazards, such as air pollution, have been an issue impacting millions across the world. These issues, however, have not been universal and disadvantaged communities, like the poor and communities of color, have been disproportionately affected.
A study published in 2014 researched nitrogen dioxide levels in communities across the United States. Nitrogen dioxide is a chemical commonly produced by vehicles and power plants. Findings indicated that minorities are exposed to 40% more air pollution compared to white and wealthier communities.
Results further suggested that if poorer areas were subjected to the same level of nitrogen dioxide levels experienced by wealthier areas, nearly 7,000 deaths from heart disease alone could be prevented. 
This apparent disparity has spurred many organizations like Greenroots to advocate for environmental justice, not just action on environmental hazards. Addressing pollution and toxic waste is one thing, but ensuring that everyone – especially poorer residents in more impacted areas – are heard and included in finding solutions is essential in balancing the impact of these hazards.
Longstanding inequities and the neglect of vulnerable populations' voices has limited their power in decision-making and reducing their access to resources, said Rebecca Riccio. 
"Low-income communities have long experienced poor air, soil and water quality, and other forms of environmental injustice, because of policies and practices that promote pollution over their well-being," said Riccio, who is the director of The Social Impact Lab at Northeastern University.  
"Those issues have gotten worse and will continue to affect those vulnerable and marginalized communities more as a result of climate change as well," she said.
Chelsea, located just outside Boston, is home to an expansive minority population. In a census taken by the United States Census Bureau in 2018, roughly 65.9% of the city is of Hispanic or Latino descent. 
Riccio said that in addressing environmental inequity, seeing solutions through a racial and equity lens is not only necessary: it is essential. 
Organizations best-placed to do this work, said Riccio, are those that have been deeply involved with their communities and are in a position to respond to issues their people are battling.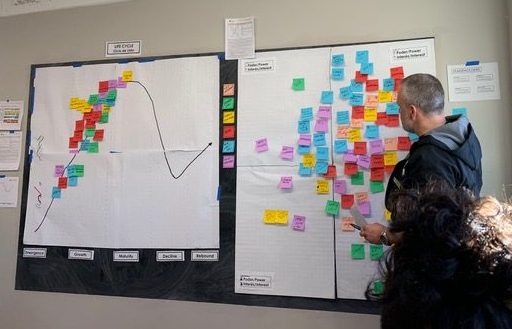 "Environmental justice organizations that have such deep roots in their communities are especially well-positioned to understand what their communities need and want," Riccio said. "Those are the ones where I think the most exciting neighborhood-by-neighborhood work is happening."
Katherine Zelaya, a high-school senior in Chelsea, is a member of Environmental Chelsea Organizers (ECO), Grassroots youth leadership team that has worked on projects aimed to combat the climate injustice in the community.  
One of her favorite projects she has participated in since joining the organization, was the "Chemicals in the Creek" project, which Zelaya and ECO conducted with Northeastern University and MIT.
The team collected data that indicated oil companies operating within Chelsea violated the Clean Water Act 76 times between 2013 and 2017, dumping hazardous chemicals in the Chelsea River.
To highlight the wrongdoings of these companies, Zelaya said, ECO released 76 glowing lanterns onto the river in November 2018. Each lantern symbolized a violation and represented the chemical dumped by oil companies. 
Zelaya said they held a community meeting after the lantern event. They invited oil companies to a discussion about the damage they were inflicting on Chelsea's natural resources, and what they could do to fix the problem. This was followed by a strategic planning session hosted by Greenroots last November. The day-long session was led by leaders within Greenroots as well as concerned activists in the community. Attendees split into groups of three and each team tackled climate-crisis issues.
One group was tasked with dividing organizations in Chelsea and Greater Boston by their level of power in the community and their interest in supporting Greenroots' mission of advocating for environmental justice.
By the end of the session, the group had classified many government agencies and politicians — such as Gov. Charlie Baker, the courts and the MBTA — as figures with very little interest in supporting their fight for environmental justice. 
Roseann Bongiovanni, the executive director of Greenroots, said that Massachusetts Government has also done very little in incorporating racial and social equity with its actions against climate change.
"We see first-hand that environmental justice communities have to fight so much harder to just have a seat at the decision-making table," Bongiovanni said. "They're a shadow. They're a second-thought." 
Bongiovanni also said that the state isn't following its environmental justice policy. "The legislature right now has the opportunity to pass an environmental justice bill but, up until today, there is no legislation that requires environmental justice to be codified in state laws," she said.
The City of Boston, however, has made additional efforts to integrate social justice with their action plans. In 2014, Greenovate Boston released an update to the City's current initiatives on climate action.
On page 16, the plan addresses the issues of social equity within the climate crisis, stating that addressing the disproportionate climate impacts that are currently affecting low-income and disadvantaged communities is a "guiding principle" to their plan.
https://thescopeboston.org/q-a-changemakers/changemaker-damali-vidot-chelsea-city-council-president/
These issues, as Vidot and those of the Chelsea community are well aware, have tormented the city and are the result of the industrial sector that has dominated the area and exploited its resources for years. 
"We are so close to the airport, so close to the water," she said. "We have a huge industrial reach." 
Chelsea Creek has been a hotspot for this exploitation, as oil companies have used the creek to dump dozens of hazardous chemicals into its waters, deeming it unsafe for community use. 
Henry Wilson, a member of the city's school committee in Chelsea, has lived in the area for more than 25 years and is still waiting for the day where he will be able to enjoy the water. "One day I'd love to say that we can go on the creek to swim, to fish," said Wilson. "As of now, there's not much of a chance of that ever happening."
Wilson has also noticed a deterioration in his health. "I have asthma but it's starting to get worse because of my location," he said.
On the opposite side of the creek is Boston Logan International Airport, a culprit in the noise and air pollution that the city is experiencing. While Greenroots has worked to limit the number of airplanes that fly over Chelsea, Wilson says, the threat of air pollution still remains.
"You can go to your window and literally see the soot from the burning jet fuel," Vidot said. "There are so many different facets of the environment that are threatening our community."