If there's anyone who has devoted their life to helping others, it's Cindy Rowe, the executive director of the Jewish Alliance for Law and Social Action, a local lobbying group that works to protect civil rights and advocate for justice through lobbying, coalition building and policy work.
Rowe started her career at the Massachusetts State House, working on state budget and local aid for Governor Michael Dukakis and later working for former Rep. Marc Draisen (D-Suffolk). 
But she got her first taste of Jewish advocacy, now her main passion, when she began working with the American Jewish Congress, which later became the Jewish Alliance for Law and Social Action, as a consultant. She became executive director in 2016.
The Scope sat down with Rowe in her downtown office to discuss her career and the organization's work. The following transcript has been edited for length and clarity.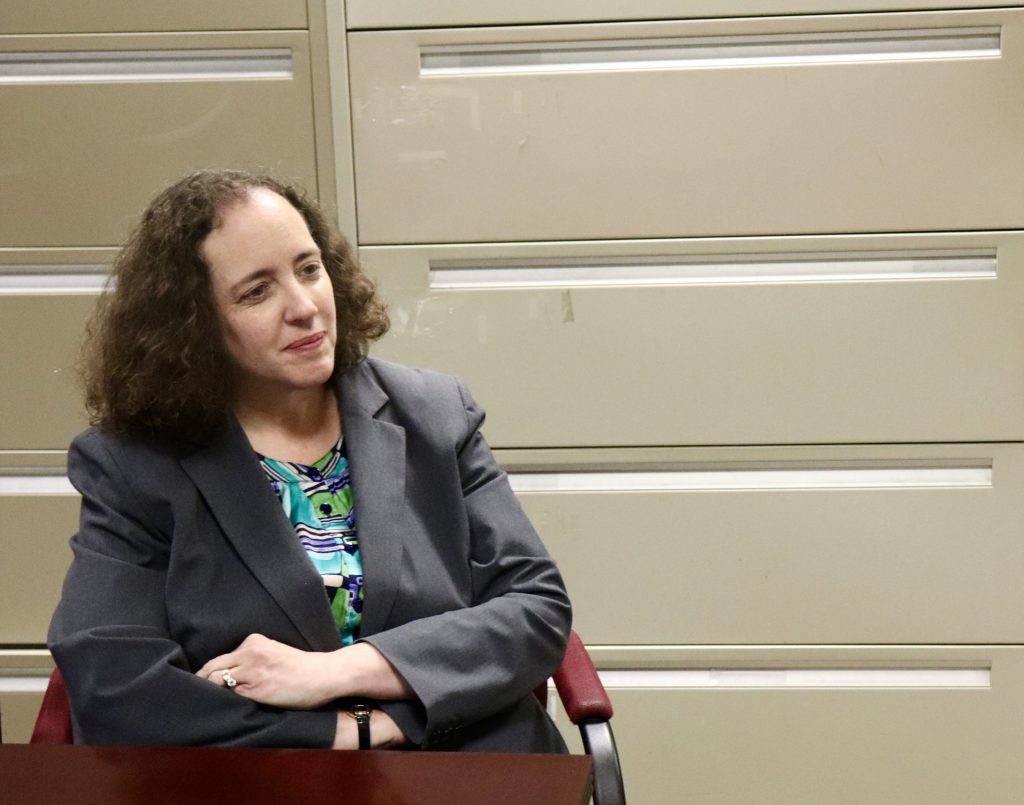 Q: What motivates you?
A: I have a deep belief in how government should treat people and that matches up with our Jewish values. Treating people with dignity and respect is the foundational principle of our faith-based values. 
Q: How do you make change?
A: In quite a few ways, and that's why JALSA has such a large toolbox. One of the most direct ways is working with legislators to direct laws. We also do litigation, we work on amicus briefs so that we have some influence over court decisions. We work through community organizing so people can get together and figure out what's important to them and how they want to work on it. We have education programs so people learn more about these issues. The Tzedek salon is our education program that brings young people together with public policy speakers. The last thing we do is coalitions. We are creating those coalitions.
Q: What are you currently working on?
A: We work to make sure that there is a strong Jewish progressive voice on issues where the Jewish community needs to be represented. We also create pathways for people who want to work through their Jewish values. Currently, we are working on immigration, particularly the Safe Communities Act and the Family Mobility Act. We are working on affordable housing, climate change, healthcare, the prescription drug pricing bill and to contain the cost of prices. We are working on the Roe Act to ensure access to abortions and the Fair Share amendment, also known as the millionaire's tax. We are also working on gun violence prevention. Everything we do, we do in coalition. We are the Jewish progressive voice in the room. And when we walk into a room, we bring with us our volunteers, our relationships with synagogues, our relationships with legislature, our legal expertise.
Q: What challenges do you face?
A: There's an overall climate in the country right now, on a national level, where policies are being driven by discrimination and bigotry. We are fighting very hard against that kind of climate. We are working very hard here in Massachusetts to protect state residents and stand up for our values. We are also working on a national level to oppose these policies. Fighting against that climate has been very difficult. 
Q: What's an example of something you've done to fight that climate?
A: There's been a lack of action on a federal level, so here in Massachusetts, JALSA was one of the founding members of the Massachusetts Coalition to Prevent Gun Violence. Over the last few years, we've passed some of the strongest gun violence prevention laws in the nation. A recent one we passed was called the Extreme Risk Protection Order. This saves lives and takes guns out of the hands of people who really should not have them in that moment. 
Another example is paid family and medical leave. Our country does not have a paid medical leave policy. There are millions of workers who have to decide between showing up at their job and leaving their sick kids at home and not taking care of themselves. We just passed our own state family medical leave law, so now over one million people in our state who didn't have access to paid family and medical leave now have access to it.
Q: What do you wish people knew about Jewish advocacy work?
A: I think there are a lot of people who are very worried about what's going on, and they don't know how powerful they are. People should know that their state legislators are accessible and their congresspeople are also accessible. If I had a wish of something people knew, it's how important your individual voices are and to work with organizations like JALSA.
Q: What changes would you like to see in the future?
A: I think that despite these challenging times, we are seeing people become activated who never thought they'd be called upon to be in this space. That knowledge that when a challenge is put before them, people are willing to get involved and learn how they can be changemakers. Our challenge will be to make sure that when these times are passed, that people will still understand that they can't go back to the sidelines.