Changemakers: Florists George and Barbara Sawin on being good neighbors
George and Barbara Sawin have been in business for over 30 years, and currently own Davis and Sawin Florist in West Roxbury. In 1999, they started a tradition called Good Neighbor Day, which became a day the Sawins have looked forward to every year since. 
Good Neighbor Day began with their first store in Brighton, when they decided that for one day, they would give away 5,000 roses –– a dozen per person –– to anyone who came into the shop. It was a way to connect with their community, generate goodwill and say 'thank you' to their customers and their neighbors. All they asked in return, George Sawin said, was that their customers didn't keep the roses. The goal was to distribute the roses to others as an act of goodwill. 
They invited local politicians, including then-Mayor Thomas Menino, who began returning to help every year. They also started taking donations for the Franciscan Children's Hospital, and raised thousands of dollars for the hospital. On Good Neighbor Day, children and caretakers would come from the hospital to greet guests, Sawin said. Now that they've moved to West Roxbury, they've made the Boston Police Relief Fund the main beneficiary of any donations. 
On Sept. 11, 2001, without knowing what was to come, the Sawins hosted Good Neighbor Day. Since then, the event has taken on a whole new meaning –– for both the Sawins and their community. 
George Sawin sat down with the Scope to talk about his and his wife's way of giving back. The following transcript has been edited for length and clarity.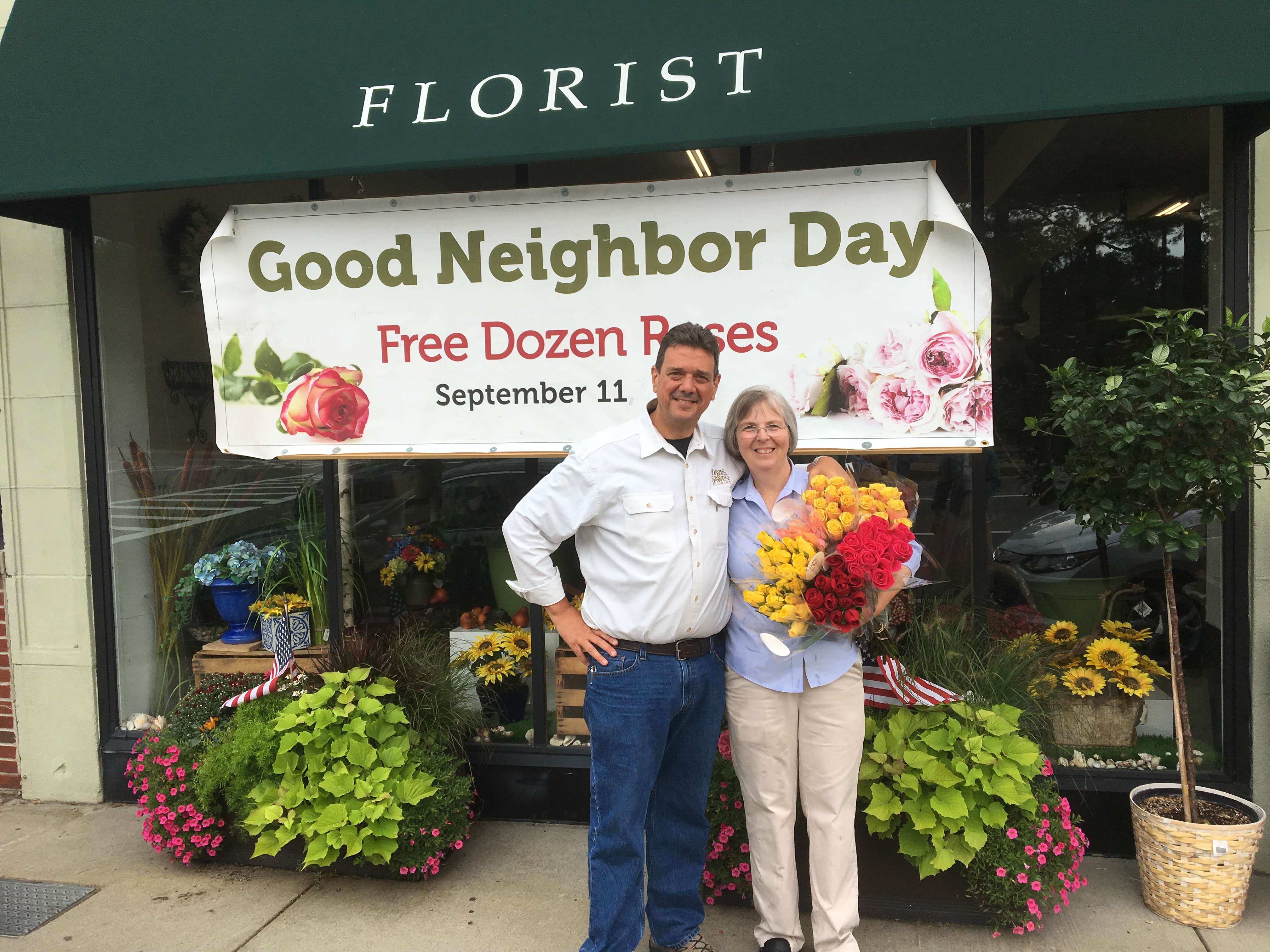 Q: How has Good Neighbor Day evolved since 9/11?
A: People were coming in, and they were in shock, like everyone was in shock that day. Everybody needed something nice, something good to happen to them that day. They needed a little caring for. People would come in, and it was such a nice way for them to greet their neighbors. We heard stories of people getting on the bus and handing out roses to people on the bus and people going door-to-door and handing them out to their neighbors they didn't know. Just all kinds of stories like that that people were doing on 9/11 as a way of generating goodwill amongst people. So we decided to continue the practice on 9/11 every year.
Q: What challenges do you face?
A: We have a small shop. It's a mom-and-pop place, and we have a small staff of people that work with us; some for many, many years. It's all hands on deck those few days, because we get the 10,000 roses brought to us, and they're not bundled. We have to unwrap them, clean them, put them into dozens, get them in water, and get them in the refrigerator. The logistics of those few days are backbreaking, and our staff works really hard to make it happen. 
Q: What motivates you to continue Good Neighbor Day?
A: In the very beginning, we wanted a way to say thank you to our neighbors. Since 9/11, it just sort of took on new meaning –– like we were doing real therapy for people that day. It was more than just giving away roses. We were connecting with people in ways they needed to be connected with. It's a way of connecting with people that is life sustaining, for us not just as a business, but we're people of the neighborhood.
Q: Is there anything you wish people knew about what you do, or about Good Neighbor Day?
A: That this is done out of the spirit of giving, out of caring about each other. Every other day of the year we're open for business, and we're doing business with our neighbors and our customers and our friends. But this is one day where we're doing it differently, and it's important to us. It's a way of giving back. The goodwill we generate with folks is more meaningful than anything. It isn't cheap to give away 10,000 anything, and all the preparation that goes into it adds to it. But I couldn't be happier to do it. For as long as we're in business, we'll continue to do it every 9/11.
Q: Where do you see change happening?
A: We've made great friends with the Franciscan Children's Hospital, and we've made great friends with the Boston Police Department and their Benevolent Society in particular. We couldn't be prouder to be associated with those groups, because they do such good work and it's so unheralded. Seldom is anybody happy to see a cop –– on the street, at their door, in an establishment. We can have police officers in our store, greeting people, asking them what color roses they would like and then wrapping them up and handing them to them. The breaking down of barriers between people and the police officers is just a wonderful feeling.
Q: What wishes do you have for the future of Good Neighbor Day?
A: I want it to continue to grow so that one day I can give away 20,000 roses. I'd have to rent some more space. It was a real stretch to put together 10,000 this year, but I want to get it to a point where maybe we get more volunteers in the prep department of it to free up our staff to do other things. I'd like to build it to even more of a community event, where people of the community volunteer some time to come and help prep the roses, put them in the refrigerator, and help us with the complete process so that Barabara and I can give away even more roses than we're currently doing.