Lifelong Dorchester resident Alma Chisholm sat alone in the main hall of the Islamic Society of Boston Cultural Center, having arrived early for the "grassroots solidarity," at-large City Council candidate forum held on Oct. 9.
"I never miss the city councilor general election," said Chisholm, a registered Democrat still undecided on who her top pick will be come Election Day on Nov. 5. She told the Scope she was particularly keen to hear candidates discuss displacement and affordable housing measures.  
In 2012, Chisholm's landlord failed to mention that the house she was renting was in foreclosure, putting her at risk of eviction. Chisholm was able to stay in her home at an affordable price after the house was purchased by nonprofit Coalition for Occupied Homes in Foreclosure, and put into a land trust.
Now, she said, her vote lies with those who discuss anti-displacement measures, like rent control, and how city jobs will be given to city residents.
"Someone stood up for me and now I feel like I'm paying it forward," said Chisholm, who volunteers with City Life/Vida Urbana, a housing justice organization.
With less than four weeks left before Election Day, seven of the eight at-large candidates participated in the forum, organized by Right to the City Boston. Incumbent Althea Garrison declined to show, according to moderator Rev. Mariama White-Hammond. Forum participants were seated in the order in which they will appear on the Nov. 5 ballot: Councilor Michael Flaherty, Alejandra St. Guillen, Councilor Michelle Wu, Julia Mejia, Erin Murphy, David Halbert and Councilor Annissa Essaibi-George. Garrison will appear sixth on the ballot.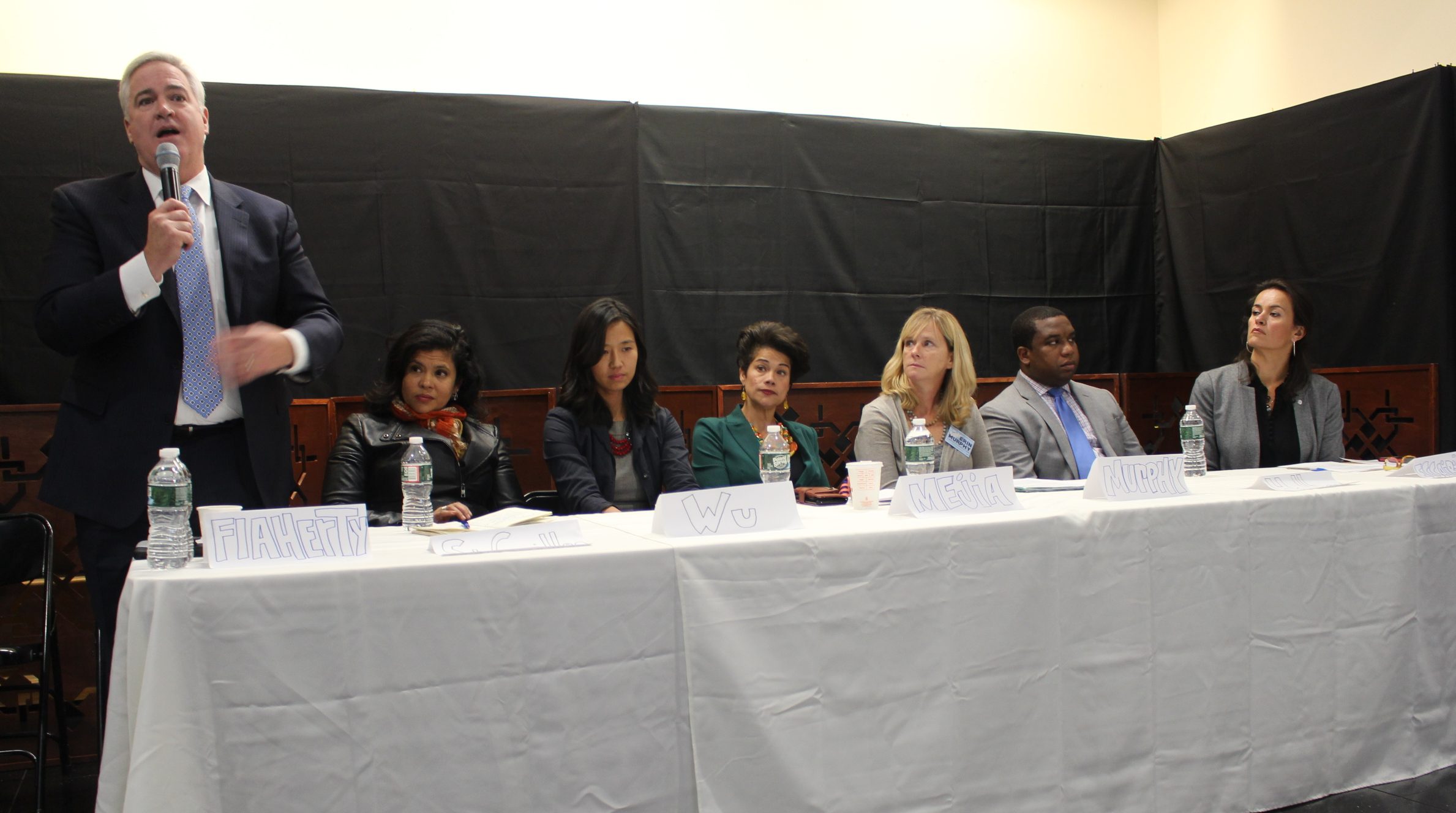 One of the largest issues candidates have faced at these community forums is the rising cost of rent and overdevelopment across the city. Local activists and housing organizations have called for the return of rent control policies, which have been banned throughout the Commonwealth since 1994.
State Representatives Mike Connolly (D- 26th Middlesex) and Nika Elugardo (D- 15th Suffolk) introduced a bill in June that would allow municipalities to better protect tenants from eviction, cap rent payments and overturn the 1994 ballot. 
According to the proposed bill, rent could not go up beyond a limit that will be set by each municipality. Advocates for the bill site the swell of development and displacement throughout Boston and its impact on long-standing neighborhoods.
However, not all supporters of affordable housing are in favor of rent control. The Massachusetts Association of Community Development Corporations, which manages nonprofits involved in the construction of affordable housing projects, supports part of Connolly and Elugardo's  bill, but not the rent control aspect. The organization . 
Two councilors, Essaibi-George and Flaherty, showed no support for rent control during the forum earlier this month. 
"[Rent control] becomes a great talking point, but creates a distraction from our work," said Essaibi-George, adding that she believes it creates low vacancy rates. She said big businesses are able to work around rent control and that it ultimately does not bring down the price of rents.
Flaherty repeated his position on rent control;  "Not at this time."Advocates of rent control have grown concerned about out-of-state real estate giants buying property in Boston and raising prices, a move that has historically pushed families and entire communities out of certain neighborhoods. 
Wu, who was initially against rent control, said she has heard feedback from residents and will now support it.
"We are past the point of being cautious about displacement," said Wu, who recently announced her plan to abolish the BPDA. "It's not about buildings with value. It's about people with value."
After the forum, Chisholm said she appreciated Flaherty's honesty but was impressed with Wu's passion.
Most of the challengers shared personal stories about what it's like to get priced out of their own neighborhoods.
Mejia, whose grassroots supporters were in full voice that evening, said she was raised by a single mother who, after moving to the U.S., was forced to move her family throughout the city's neighborhoods, including Jamaica Plain and Roxbury, before settling in Dorchester.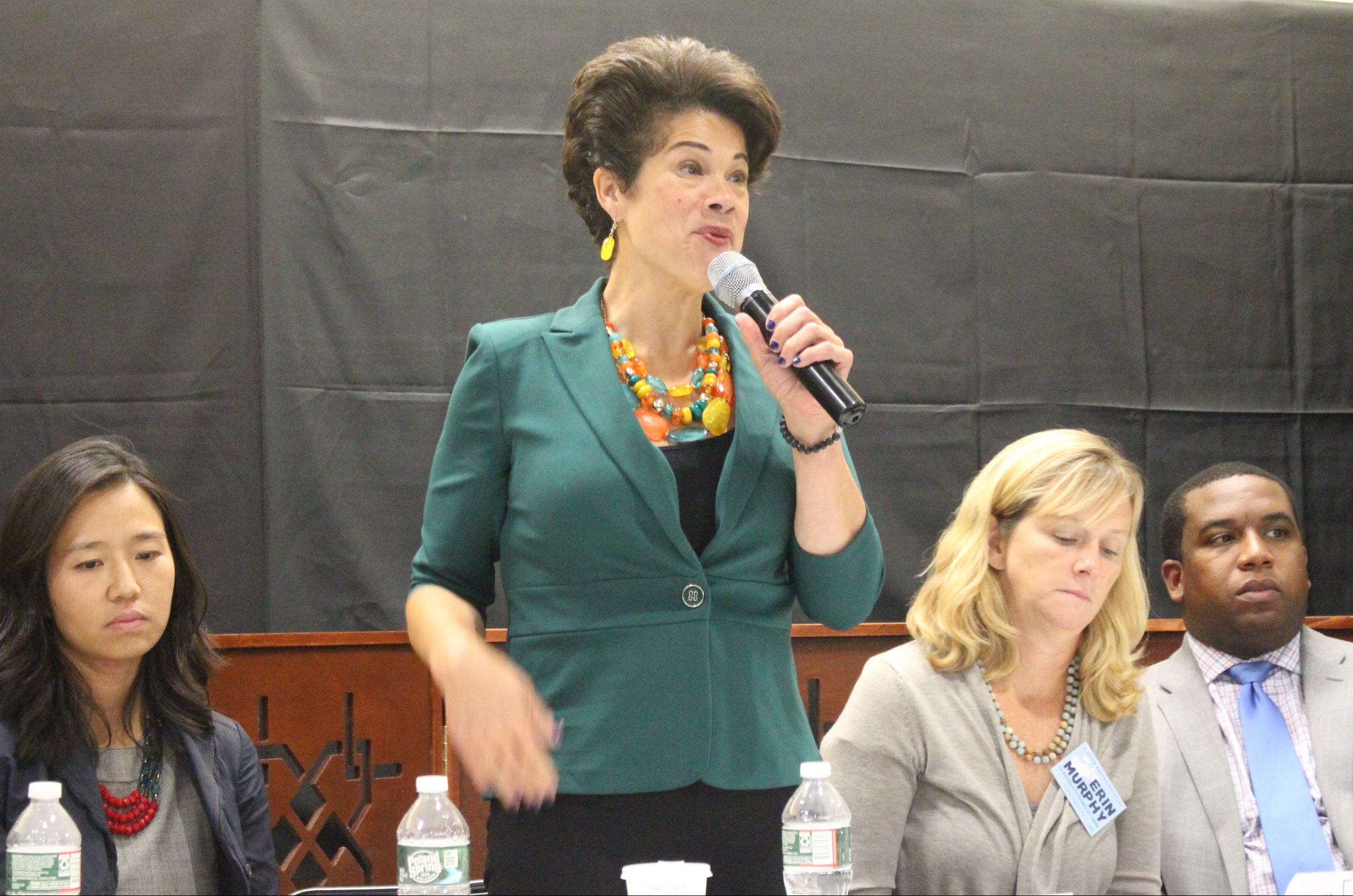 "Today there are over 5,000 students in the city of Boston who are homeless," said Mejia, who supports rent control.
Murphy, who has rented in Dorchester for more than 10 years and whose family has been in the neighborhood for generations, said she may be the only candidate who still rents. She fears her daughter, a senior in college, will not be able to afford the cost of living if she moves back to Boston after she graduates. 
St. Guillen, who said her campaign knocked on 26,000 doors before the preliminary, acknowledged that every resident's priority is housing and staying in their home. 
Halbert, who supports rent control, proposed that the city engage with other partners across the state. He said that as Boston is harshly impacted by the cost of housing, nearby communities such as Somerville, Cambridge and Quincy are experiencing it as well. 
Tito Garcia, 17, of Dorchester, said the issue of rent control impacts his family. He was raised by a single mother who is a hairdresser.
"It's hard to pay for childcare and then pay $1,500 in rent," said Garcia, who explained that there were times when his mother worked two or three jobs to cover living costs. "The base [cost of] living does not match up to the minimum wage."
Garcia turns 18 in April, so he won't qualify to vote in this fall's election, but said if he could vote now, it would be for Halbert, St. Guillen, Mejia, and Wu. 
Chisholm, who now lives in her second COHIF-owned building, said after the forum that her mind is now set.  After hearing her speak, she told the Scope that she related to Mejia's experience with housing instability and is the candidate sure to get her vote next month.