Massachusetts mayors support abortion rights bill
Five Massachusetts mayors urged legislators to pass the ROE Act, designed to protect and improve access to abortion across the state, from the steps of the State House on Tuesday.
Holding signs that read "abortion is health care," 14 female activists stood in the morning rain waiting for Boston Mayor Martin Walsh to arrive, along with mayors Yvonne Spicer of Framingham, Daniel Rivera of Lawrence, Nicole LaChapelle of Easthampton and Joseph Curtatone of Somerville, who all spoke at the event, co-ordinated and attended by Planned Parenthood, NARAL Pro-Choice Massachusetts, the ACLU Massachusetts and several other activist groups endorsing the act.   
"We should be moving forward and actually giving more rights to people," Walsh told the crowd of about 60 advocates and political aides.
"We shouldn't be taking rights away from women, we shouldn't be taking rights away from families," he said. "That's why we're putting a stake in the ground here, in Massachusetts. That's why we, as mayors, today are going to stand shoulder-to-shoulder with our colleagues in the Senate and the House and demand that action happens."
Speakers Walsh, Spicer, Rivera, LaChapelle and Curtatone were accompanied before the crowd on Beacon Hill by mayors Marc McGovern of Cambridge and Donna Holaday of Newburyport. In total, 16 mayors from across the state have signed on to a letter endorsing the legislation, which was introduced by Sen. Harriette Chandler in June and has since then remained with the Senate Judiciary Committee. Supporters hope that legislators will take up the ROE Act this fall.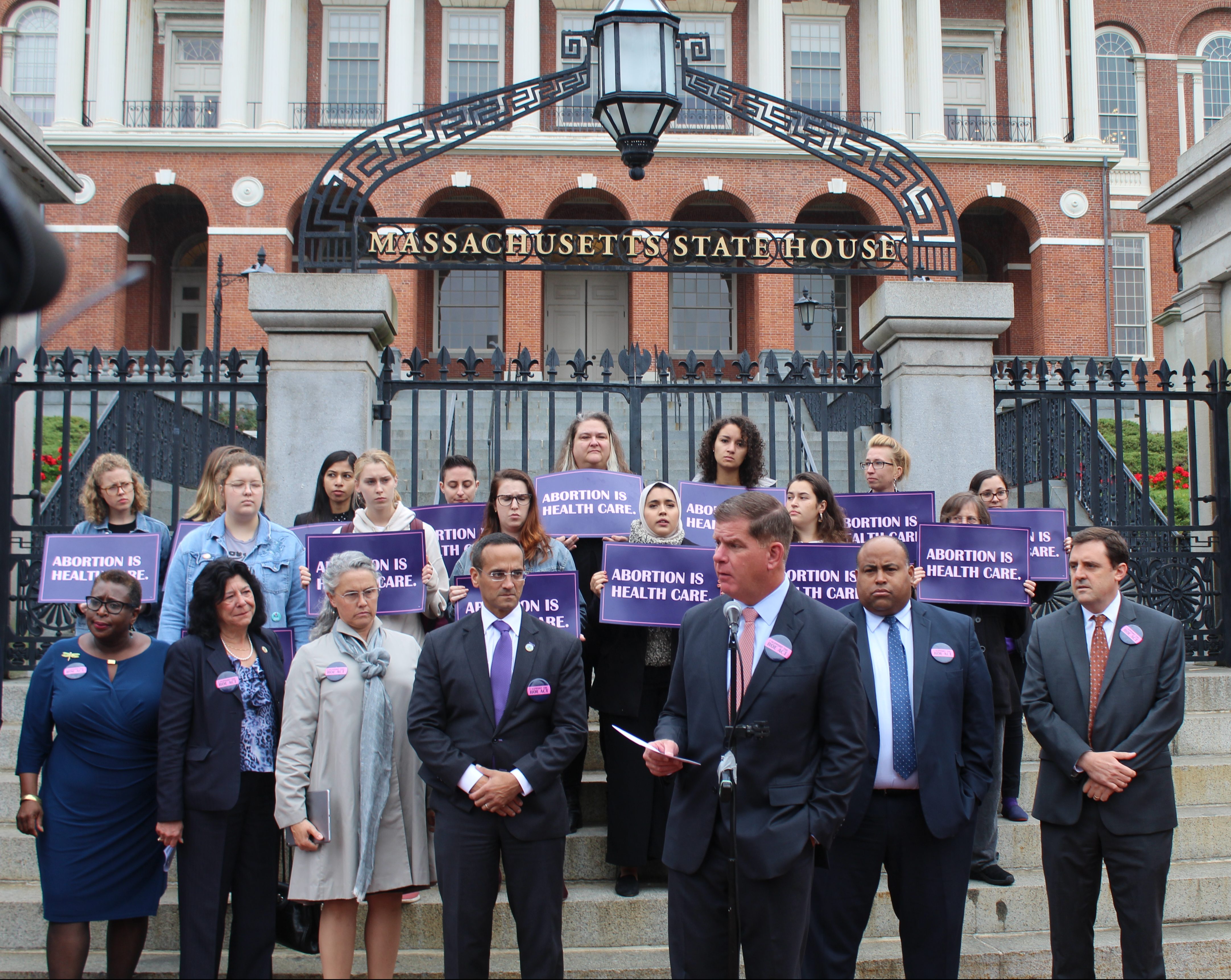 In Massachusetts, women are not legally allowed to have an abortion after 24 weeks unless a doctor determines their health or life is at risk. This leaves many women who know that their child, if born, will not survive, making the difficult emotional and financial decision to travel out-of-state, often to Connecticut, Colorado or New Mexico where the procedure is permitted.
"I hope you understand, this is not just us waving a flag on something that's already clear and easy here in Massachusetts," said Rivera. "When somebody has to leave Massachusetts to get health care, something's wrong with that piece of health care." 
The act would also eliminate the requirement for parental consent or court approval for those under the age of 18 seeking an abortion. Critics maintain the need for parental control. They fear the ROE Act will encourage youth to hide unwanted pregnancies or make them vulnerable to abusers who force them into having the procedure. Supporters of the law, like Gena Frank, legislative and political director for NARAL Pro-Choice Massachusetts, say the current system traumatises pregnant youth, placing undue burden on those who are not in stable family environments or who must argue their case before a judge. 
"That's not acceptable," Frank told the Scope. "The place for health care is in a health care setting, not the courthouse."
LaChapelle said that her constituents drive over 90 miles to seek reproductive health care.
"I am pretty sure, in fact, very sure that there is not a man here that drives 100 miles to have treatment for his prostate," LaChapelle said. "I have constituents in Easthampton who are driving to Connecticut, upstate New York, to get basic information and a choice that only they deserve to make."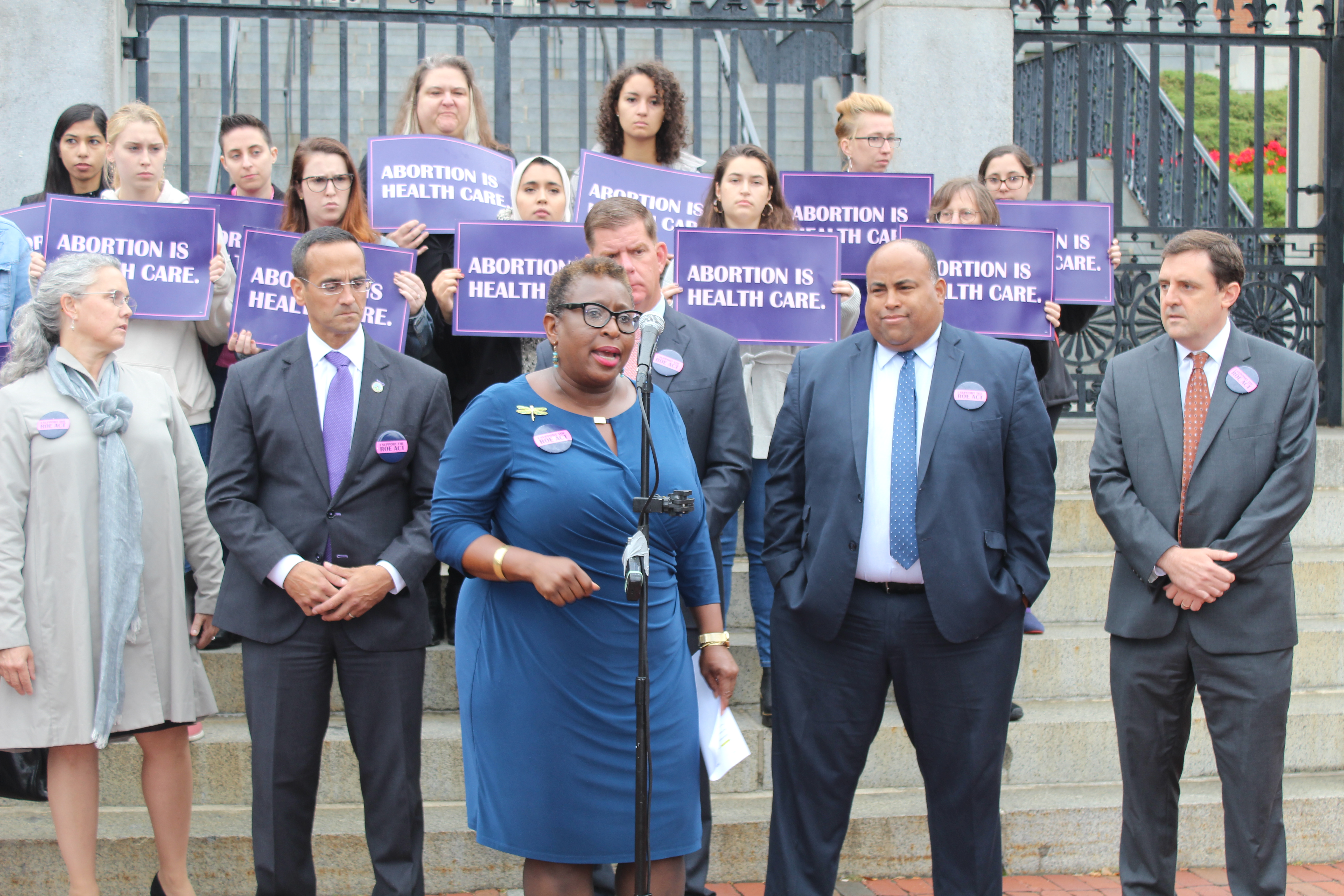 Spicer said reproductive health care inequities and limited abortion access particularly affect women of color in Massachusetts. 
"Women of color who have long lost the opportunity to be able to have affordable, quality health care, these are the women that will probably suffer if this does not move forward," she said. "It is so critically important that each and every one of us stand up for all women."
The mayors spoke about recent attacks on the 1973 U.S. Supreme Court ruling, Roe v. Wade, which affirmed a woman's right to an abortion, by state lawmakers up and down the country. 
Since 2013, a number of state legislators have debated — and in Alabama, Missouri and Ohio passed — "heartbeat laws" which make an abortion illegal from the moment a fetal heartbeat is detected. This can happen as early as six weeks into the pregnancy.
"It's imperative that men like me, leaders like us, stand up and say to everyone, 'Hey, this isn't as good and clear as you think it is, this isn't as safe as you think it is,' and with that person in the White House today, nothing is safe," said Rivera. 
"We have to make sure that we draw the lines."