Christian Newcome has known since he was 5 years old that he wanted to be a baker.
What he didn't know, is that at age 23 he would use his passion to help Boston's LGBTQ community. 
Newcome is the man behind Treats for Trans Rights, a small business he started this spring. Offering baked goods for customers with a variety of dietary restrictions, Newcome runs most of the business from his Allston apartment through Facebook and his website. Bestsellers include his snickerdoodles and brownies, but he has catered queer events and weddings to help out his community. 
Five percent of the proceeds he generates from baking are returned to those in the Boston LGBTQ community who may need help paying for items like medication. Giving back is a very important aspect of the operation for Newcome. Treats for Trans Rights comes following the discovery of an inoperable, noncancerous cyst in Newcome's brain. The impact on his nerves led to his previous employer firing him, so Newcome turned his love of baking into a business, while supplementing his income with a part time job at Pavement Coffeehouse.
When Newcome first moved to Boston from Reading, Pennsylvania, for culinary school, he knew no one. He struggled working full time at a restaurant and with his schoolwork. But he found support in the LGBTQ community that, he said, became a second family to him. 
Newcome sat down with the Scope to discuss his business, his challenges and motivations. The following transcript has been edited for length and clarity.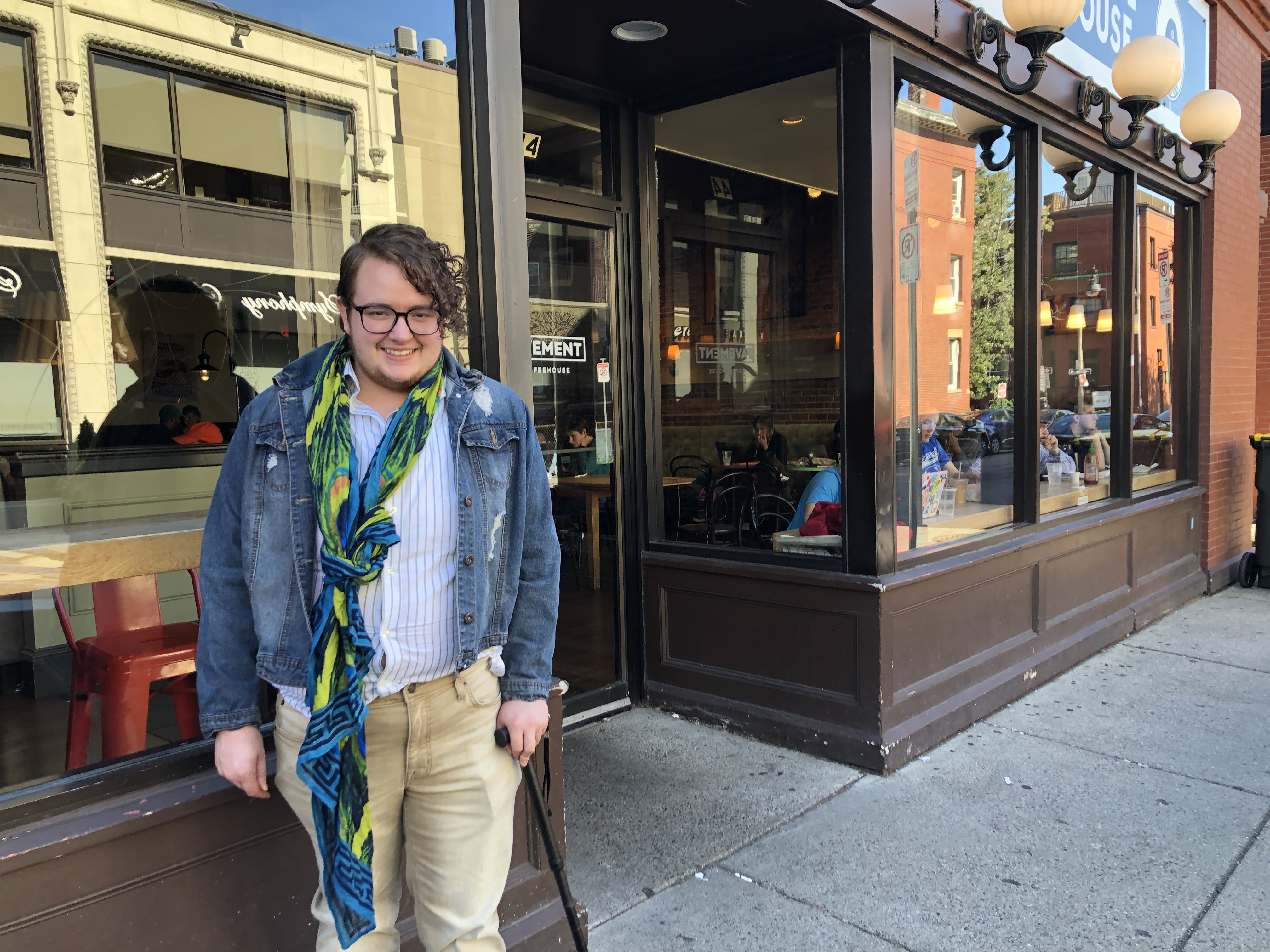 Q: How did you get started with Treats for Trans Rights?
A: It was pride month, and I decided I was going to make some pride themed sugar cookies. I posted a picture of them on Reddit and someone made a comment saying "Oh my god these are so nice you should sell these!" At the time I had just been let go by my full time job since they were really unhappy with how my performance had been sliding because I was really sick and not doing well. I knew I had another part time job lined up but I knew I was going to need more income coming in and I went "I should sell those… I should sell those!" 
Q: What motivates you to do this?
A: A lot of it is just the reactions from people when they see the cake I baked them or when they order something for weddings and they say "Oh you helped so much! Everything went perfectly!" I just want to make people happy, and have them be just blown away. When people are really really satisfied, that's what makes it for me.
Q: What is your main goal at the moment?
A: Right now I think I'd just like to get to the point where I can be making donations to the community on a regular basis. I'd like to be registered as a nonprofit by the end of the year. There's a lot of paperwork. But it'll also open up a lot of doors in regards to being able to accept donations from other people, and give donations in a more formalized way.
Q: What are the biggest challenges you face?
A: One of the biggest challenges right now is my health. I'd say about 80 percent of the time my function is mostly normal, and the other 20 percent is severely limited. I have no idea when those days are going to happen. It's the unpredictability of it, where if I have a baking day planned on Wednesday and I wake up on Wednesday and my leg is shot it takes some working around to move around those obstacles and stay positive when that does happen and not let it completely ruin your day. 


Q: How are you overcoming these challenges?
A: I'm trying to relearn function. I've got a wheelchair coming in a couple of weeks so I can adjust to the new normal and I can still live my life and get around so it's not just a day wasted in bed. If I need to go to the store and get ingredients I can still do that. Something my therapist taught me, it's like you're playing a video game on hard mode, it's not like your controller is being taken away from you.
Q: What do they wish people knew about your business?
A: A lot of time I'm willing to work with people on prices, especially if you're holding an event like a queer wedding for example. I usually give a pretty significant friends and family or queer family discount. I'd much rather be donating my time when it comes to that. I just want people in the community to have a nice day and I'd rather donate my time and provide that than for them not to have the experience they want to have at their wedding or event.  
Q: What other projects are you working on?
A: Every year I invite ten complete strangers to my house for Christmas. It's so much fun, it's such a great party. It's usually first come first serve. Last year we did a 23 pound turkey, it was the most ridiculous turkey I've seen in my life. That party is almost more important than the baking. I started it because my grandmother sends these Christmas checks to all her grandchildren, and once I was working full time I started to feel guilty about these Christmas checks. And I was like, "What can I do with this money that's charitable but like something that's close to my heart and fun?" After I did it once, I was like, "I'm going to do it forever." I just go visit home the week after Christmas now. 
Q: What are your goals for the future?
A: I'd love to get to the point where I could have a stall at the Brookline Farmers Market. Hang up some trans pride flags and put out some tasty cookies and you're gonna make hundreds of dollars. So that would be the biggest positive change for the company. I would also love to be able to set up a trans emergency fund. If there's a community member that runs into an unexpected expense, like their car breaks down or they're getting evicted, I would love to have the funds set up so that we can just help out the community and have that little cushion. I know that there have been times where I've needed that cushion and people have helped me out and I'd love to have the funds set up so I can do the same.