Northeastern panel discusses role of society in hate crimes and mass shootings
By Eileen O'Grady
How society chooses to respond to hate speech directly influences how often hate-fuelled violence and mass shootings occur, said panelists at Northeastern University's "Responding to Hate" lecture on hate crimes last Tuesday night
Addressing a crowd of about 150 in the Raytheon Amphitheater at Northeastern University, religious studies professor Elizabeth Bucar said toxic rhetoric against targeted communities leads to hate-motivated incidents like mass shootings.
"If you demonize Muslims and demonize Islam, if you constantly frame them as foreign and the enemy, you not only make violence against Muslims possible, you make it inevitable because you make it seem logical," Bucar said. 
During the event, part of the university's "Northeastern Reflects" lecture series, public policy professor Ted Landsmark moderated a discussion between Bucar and fellow panelists Robert Jose, associate dean of cultural, residential and spiritual life at Northeastern, Gordana Rabrenovic, associate professor of sociology, and Amanda Hainsworth, assistant attorney general in the Massachusetts civil rights division.
In 2018, a dramatic increase in the number of mass shootings in the U.S. dominated national headlines and raised questions about the need for gun control policies. Many of the shooters involved, like the one in Pittsburgh, Pennsylvania in October 2018 and the one in El Paso, Texas in August, voiced racist, anti-Semetic, Islamophobic or anti-immigrant rhetoric that indicated the shootings were motiviated by hate and bias.
The panelists said one way to understand mass shootings and hate crimes is to understand how Western society — and its inadequate response to such violence — has contributed to their repeated occurrence. Bucar said the hateful rhetoric often used by mass shooters demonstrates a societal prejudice that is too widespread to suggest those individuals acted without influence.
"It's a thread that runs really deep in the U.S.," Bucar said. "It's important to realize that these are home-grown terrorists. We grew them. It's our fault."
 Jose said that the increase in hate-fueled violence in the U.S. is a direct result of political and social movements that began in the 1960s.
"Books, magazines, op-eds defended and often celebrated every instance of defiance against established order," Jose said. "And barriers for acceptable political and personal behavior were lowered. We did a nosedive into personal and social dysfunction." 
Jose said that as long as radical political activism continues, radical violence like mass shootings are also likely to continue — and society has to be prepared.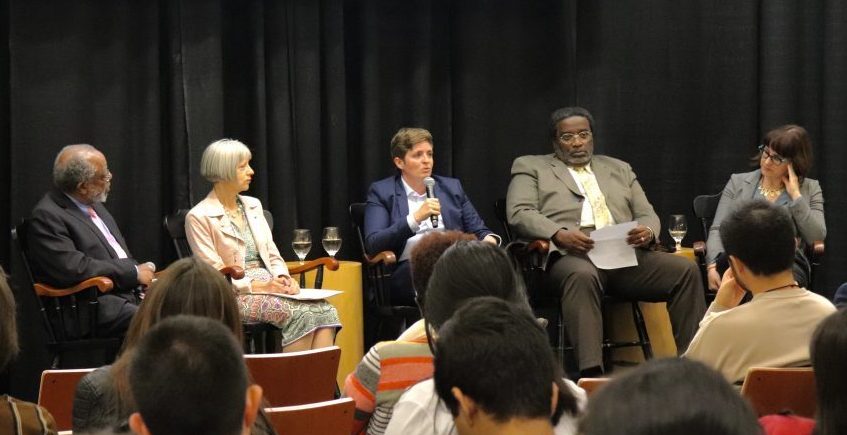 Massachusetts is one of only a few states that has a civil rights act allowing for civil prosecution of hate crimes in addition to criminal prosecution – a unique and effective way to deal with hate, according to Hainsworth.
"Criminal prosecution can always be a big tool in responding to this kind of thing, but it's limited," Hainsworth said. "We have a lot of leeway under [the Massachusetts Civil Rights Act] to go into court and address a wide variety of conduct."
The panelists stressed the importance of continuing discussions about hate rhetoric and of using religious and cultural education to combat hate speech.
"We have to recognize when we fail and why we failed, but we also have to turn and say 'how can we change it?'" Rabrenovic said. "And we can only do that when we are together."
Katie Ramirez, a third year criminal justice and human services major at Northeastern who attended the event, said she was inspired to go after hearing about it from a professor. "I was interested in hearing particularly from the legal perspective, what's been in place to help protect vulnerable populations from gun violence and racist rhetoric," she said. "I think they highlighted some very essential key points that I really appreciate, like how we can exercise empathy in different ways."
Uta Poiger, dean of Northeastern's College of Social Sciences and Humanities, is the chair of the organizing committee for the lecture series. In an interview after the panel discussion, Poiger said the goal in hosting events like these is to engage students and make them feel comfortable asking difficult questions.
"Students always ask what we can do afterwards, and I think we have to be aware that big events such as these are limited in their impact, but they are good for setting a tone around intellectual conversations," Poiger said. "We hope that they make it more clear for students about what exists in communities to continue these conversations."