By Avery Bleichfeld
Matt Cameron sits on the floor of his office in East Boston Shipyard. One floor below him is a SCUBA shop and across the street is a modern art museum. But here, stacks of files teeter beneath the window. The floor is sprinkled with Ikea box sawdust. A partially-finished construction project sits in his lap.
Cameron is spending his Saturday afternoon in the office, spring cleaning, building a desk and meditating.
His office may be in East Boston, but Cameron's job as an immigration lawyer brings him in contact with people and places that span the entire length of the world map on the wall of his conference room.
"I've always loved travel, I've loved different cultures and meeting people from around the world, and this job lets me do that every day," Cameron said.
The desk he is assembling isn't the only project on his plate right now. One floor up, in a space with an even better view of the waterfront than the one below, Cameron and his law partner Nicole Micheroni are opening Golden Stairs Immigration Center, a non-profit immigration law center named after a set of stairs located just down the street from Cameron's office that immigrants climbed from 1920-1954 after being processed in the East Boston Immigration Station. The stairs came to symbolize a climb to greater opportunity for immigrants to Boston.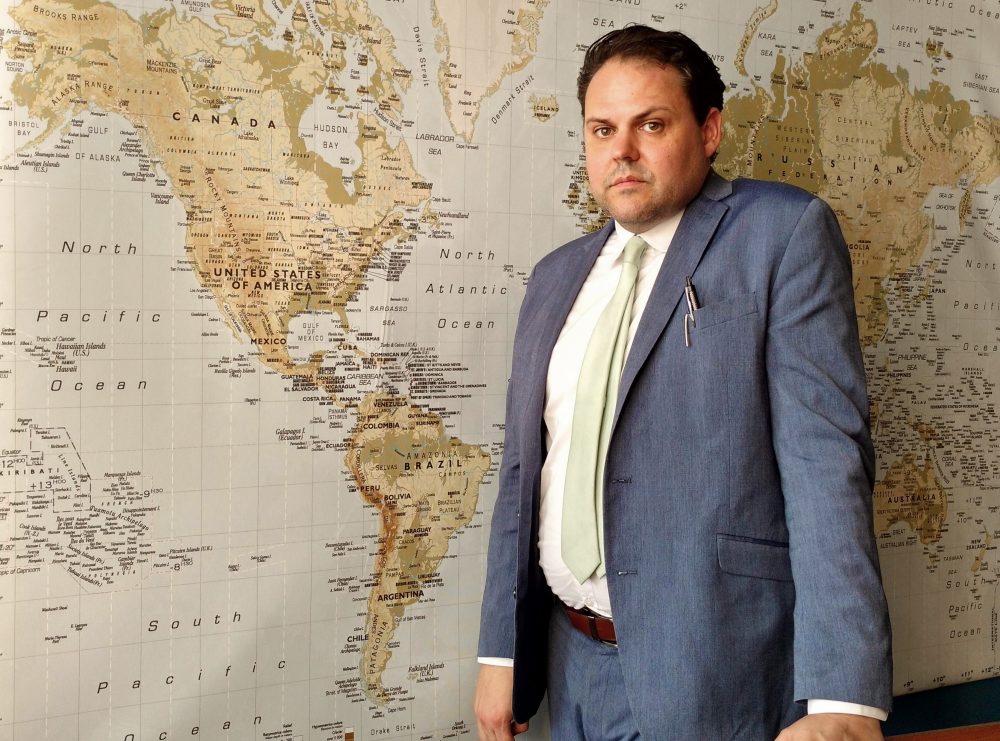 Cameron moved to East Boston in 2006, a neighborhood where 53.8 percent of people are either non-U.S. citizens or are immigrants who have been naturalized.
"I've spent most of my adult life in immigrant neighborhoods, I really like the rhythm of it and the neighbors," Cameron said.
In law school, he lived near the Ironbound neighborhood in Newark, New Jersey, where two out of three people came to the U.S. as residents. 
Cameron said he is wary about overestimating his individual importance in the work he does but is hopeful that he can manage some good.
"It's easy, as a privileged white-person, to kind of fall into white saviorism and to feel like you're the only one who can go in there and help, but at the same time this is an extremely difficult field of law that not many people want to practice," Cameron said. "I feel like I'm in the right place at the right time to be able to help people who would never be able to be helped otherwise."
As an immigration lawyer, Cameron said he understands the desire to get paid well for work in a specialized and often difficult field, but he said the fees immigration lawyers charge are often in conflict with the reality of what many of his clients can afford.
"It's very hard for me to justify to myself getting paid very well from asylum seekers and from people that I know are barely making it anyway, so that's always been the issue," Cameron said.
'Death Penalty Cases in Traffic Court Settings'
In a 2014 op-ed piece for CNN, Dana Leigh Marks, president emeritus of the National Association of Immigration Judges, called immigration law "death penalty cases heard in traffic court settings."
Melanie Torres, is the director of programs and operations at Project Citizenship, a non-profit helping immigrants with the naturalization process. She said that the immigration court system has such a backlog that it restricts access, and that's before the intricacies of immigration law.
"People are waiting years and years and years to have their day in court and then they're representing themselves with an interpreter from the detention centers half the time," Torres said.
Cameron said immigration law is "a giant crossword puzzle."
"It's one of the most complicated forms of American law that there is," Cameron said. "It's constantly changing, and it's constantly changing at the will of the executive."
It exists within the executive — not judicial — branch of the U.S. government, so some things that are normal in the average courtroom are completely different in immigration court. For example, a respondent isn't guaranteed knowledge of the evidence against them, a respondent can't cross-examine witnesses and the court is not required to provide an attorney.
"It has all the trappings of a courtroom, and the judge wears a robe," Cameron said. "There's a bench, there's a bar you have to pass if you're a lawyer and that's about it."
Judges are appointed for life by the U.S. attorney general, but do not face an approval process and the attorney general may decide cases alone whenever he wants.
In a March 2019 report, the American Bar Association said the immigration court system is "irredeemably dysfunctional and on the brink of collapse." The association proposed transferring the powers of the system to a new, independent court.
Cameron also said immigration law has the greatest disconnect between perception and reality. Most people, he said, see the immigration system as a queue that any undocumented person can join to obtain legal status.
"People get so angry when they think, somehow, people who didn't get in line [are] jumping the line, when there never was a line," Cameron said. "That's certainly the narrative that Trump and the right are selling right now, that all these people who are here without documentation just didn't do it the right way, and if they had done it the right way they would be in a better situation."
In a Tweet from June 24, 2018, President Donald Trump wrote "Our Immigration policy, laughed at all over the world, is very unfair to all of those people who have gone through the system legally and are waiting on line for years!"
However, Cameron said the reality is different.
The system has few paths to legal status, and the ones that do exist can seem stuck behind a paywall.
Eliana Nader, an immigration attorney at Magaletta and McCarthy, P.C., said that before immigrants even pay their lawyers, there are filing fees and fees for medical exams that can cost more than $1,000. For some, those fees can be an insurmountable barrier to court.
"I have lots of clients who are married to U.S. citizens, perfectly eligible to apply to be here legally, but are sort of sitting on it, haven't done it, because they're saving up the money to be able to do it," Nader said.
Without going through the court proceedings, they are left at risk of arrests and deportations due to what Nader ultimately calls "an issue of money."
The job of an immigration lawyer can be difficult and specialized and it leaves attorneys in a place where "you do expect to get paid, and you do expect to get paid very well," Cameron said.
Immigration courts open early — around 8 a.m. — and lawyers may have to visit their clients in ICE custody as far away from Boston as North Dartmouth or New Hampshire. Seeing client after client suffering poses an emotional challenge too.
"I feel silly talking about that, because it's not me who's suffering in the situation, but the contact trauma does start to add up and the stress of it is really, really real," Cameron said.
No right to an attorney 
In a criminal court, the Sixth Amendment to the U.S. Constitution gives defendants the right to an attorney. In immigration court however, the same rules don't apply. Even in situations where respondents are detained, if they cannot pay for a lawyer, they are given a list of non-profits in the area that offer pro bono services.
"Even though you are in jail, next to somebody who's being charged with a crime, the person being charged with a crime gets a lawyer appointed to them if they can't afford one by the state," Nader said. "But you — even though you're in the same jail, you're the guy's cellmate — because your process is a civil process … you don't get the right to an attorney appointed to you."
The non-profit organizations that exist to help immigrants are few in number, and often limited in the scope of services they offer.
For example, Kids In Need of Defense, which has an office in Boston's Seaport, only works with children. The Political Asylum/Immigration Representation Project in the North End mostly works with detained asylum seekers. The Irish Immigration Center in Government Center doesn't do anything with detained work, or with removal defense, and only helps people with things like naturalization. The specialized focuses of non-profits can present a challenge.
"We […] get a lot of people calling our offices looking for other services, other than citizenship, or they become a citizen, they want to petition for family members, and it can be hard to figure out where to refer them," Torres said.
When immigrants do find the right service, they are often faced with long lines and inundated law centers.
"My clients tell me when they try to call on these lists, they're told that can't take them, for the most part," Cameron said. "It's very, very hard for anyone to get an attorney they don't have to pay for."
Nader said non-profits do good work but are limited in what they can manage, and may not be able to match the services of a for-profit attorney.
"When there's such a high need it's inevitable that the workload will not really permit … the kind of attention and care each case needs," said Pamela Fuentes, an associate attorney at FitzGerald Law Company in Downtown Crossing. "If there was a way to make it so that people who need non-profit — really do qualify and need non-profit legal services — still get the same quality of attention in work as someone paying many thousands of dollars to a for-profit attorney or law firm that would be great."
This overburdened workload can leave immigrants to face the complicated system alone, even if they are children.
"My client last week had light-up sneakers and he still has no right to an attorney unless he can afford one, so kids are facing immigration court alone," Nader said.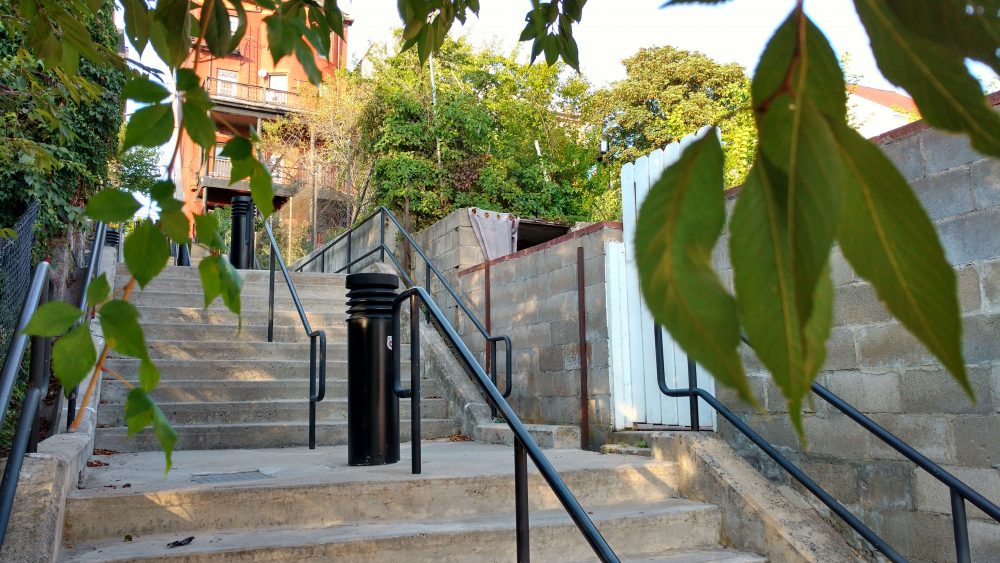 "We're going to try to do it all"
Golden Stairs Immigration Center doesn't plan on limiting themselves to specific areas of immigration law like existing non-profits do.
"We're going to try to do it all," Cameron said.
Cameron and Micheroni will start by taking the cases that they previously couldn't have taken without pay. They also intend to hire a staff attorney and set up a system of training lawyers working in other fields to do the occasional immigration case for free.
"If we could get attorneys to commit to a couple of pro bono cases a year, potentially we have dozens of cases that could be covered that otherwise wouldn't be," Cameron said. "So, there's a lot of possibility here and there's nothing like it in New England."
Cameron said starting an organization like this is something he has always wanted to do. When the opportunity presented itself, he seized it.
"The space became available upstairs," Cameron said. "As soon as it did, I realized we had to do it. There's a huge need in this neighborhood, and on this side of the harbor for it."
Setting up a non-profit has been a "big lift" said Cameron, but he's motivated by the importance of what he does.
"We don't have the death penalty in Massachusetts, but we have deportations, and some of these people are being deported to death, and I'm very aware of that every day, it's what keeps me going," Cameron said. "And sometimes there's nothing we can do, but when you can it's an amazing feeling and there's nothing like it, and I live on this rollercoaster every day where it's governed by these results."