Green Line expansion is on track, but expect a bumpy ride
By Eileen O'Grady
The MBTA is moving ahead with plans to upgrade Boston's Green Line, but the project's leadership team has warned that service is likely to get worse before it gets better.  
Addressing about 40 citizens at a public meeting at the State Transportation Building last Tuesday night, Green Line Transformation Chief Angel Peña said he is pleased that the upgrades the line needs are finally being implemented.
"We have a lot to do that takes a lot of coordination," he said. "Now that we have a program dedicated to the Green Line, we will be able to do that."
Peña, a former director with the Washington D.C. Metro, was brought on board to lead the Green Line Transformation project in September, 2018. He was joined at Tuesday's meeting by the project's senior directors, Tamieka Thibodeaux, Desiree Patrice and Kimberly Woollard.
"I understand the frustration all of us have with overcrowding of trains and service delays. But trust me, we get it," Thibodeaux said. "And we are working together as a team to make sure these programs are overseen."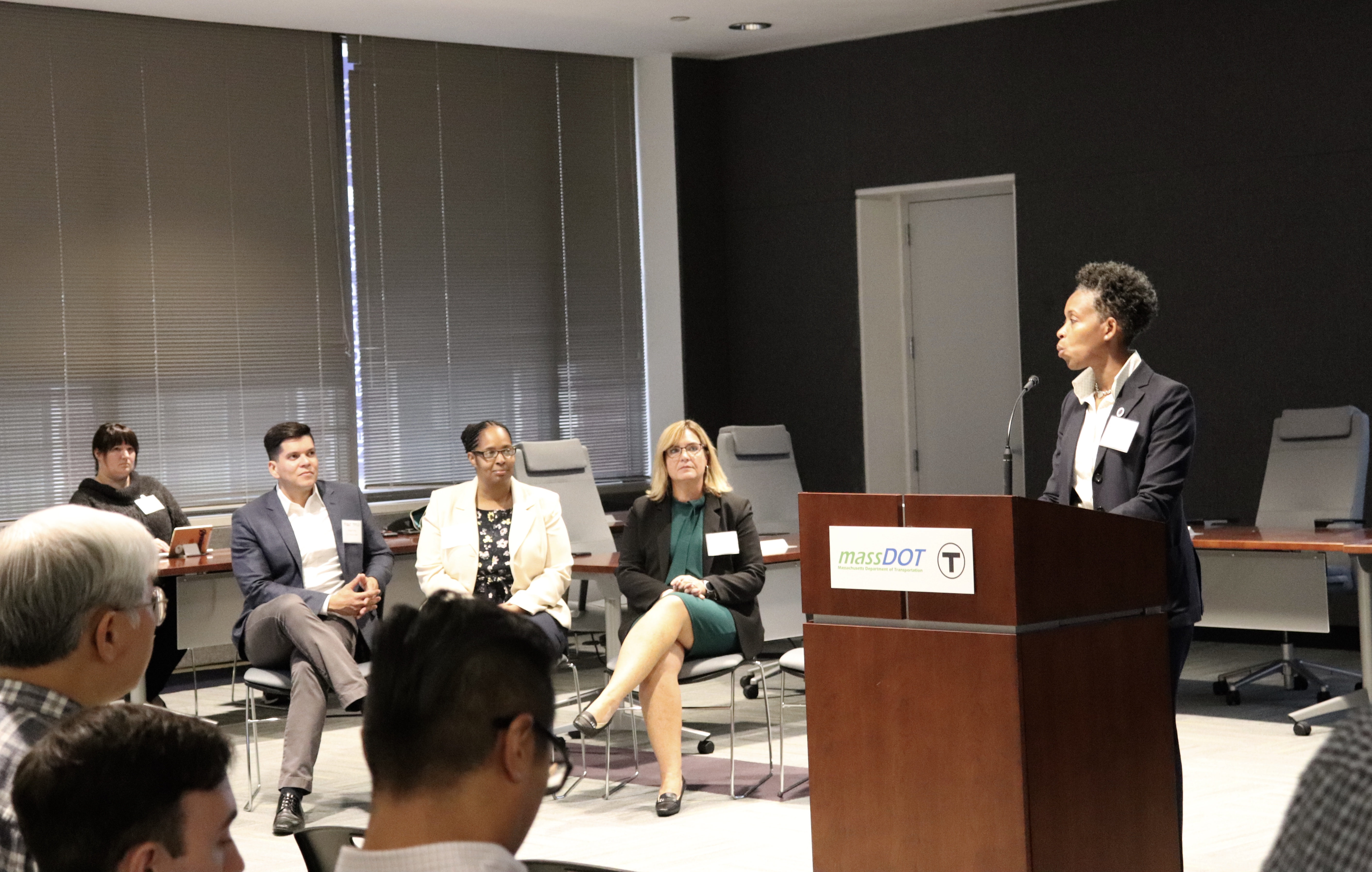 Transformation of the Green Line rail system, which began in July 2018 and will continue through 2021, is aimed at increasing the number of people the line can carry, making it more accessible for people with mobility issues, and making the infrastructure more resilient to weather. The MBTA will also extend the Green Line route into Somerville and Medford and consolidate some of the Green Line's B-Branch stops along Commonwealth Avenue as part of the project.
The MBTA also plans to introduce new technologies for customers, including a payment system that allows riders to pay at any train door by tapping a Charliecard, smartphone or contactless credit card. Digital signage will be installed inside trains, as well as a more accurate GPS system for tracking arrivals.
All these upgrades are leading to the MBTA's ultimate end goal: the arrival of a new fleet of Type 10 "Supercars" slated for testing in 2026. These 114-foot single-car trains, which are still in concept mode, will have more interior space and wider doors than the Type 7, 8 and 9 cars currently in service.
"This increases capacity to help with overcrowding, especially during an event such as the Patriot's Parade, and Red Sox celebrations," Wollard said at the meeting. 
But, Woollard cautioned, new larger trains mean many upgrades will have to be made to Boston's old rail system in order for them to operate. Curves on the tracks will have to be widened and platforms lengthened. Storage yards at Riverside, Boston College and Reservoir will have to be enlarged. The Type 10s are so big they will have to be delivered to Riverside in parts and assembled on-site.
Planning and prep-work will continue for the next several years and will affect the Green Line in sections. Shuttle buses will replace trains during track maintenance. According to Thibodeaux, this part is still in the planning phase, and the MBTA has not yet decided how to transport people across the Green Line's busiest areas, such as downtown.
Rep. Tommy Vitolo (D-Brookline) and Sen. William Brownsberger (D-Belmont) who were present at the meeting, both spoke up in support of the project during the Q&A session.
"There's so much here that will really move the lines along and people, frankly, deserve it," Vitolo said.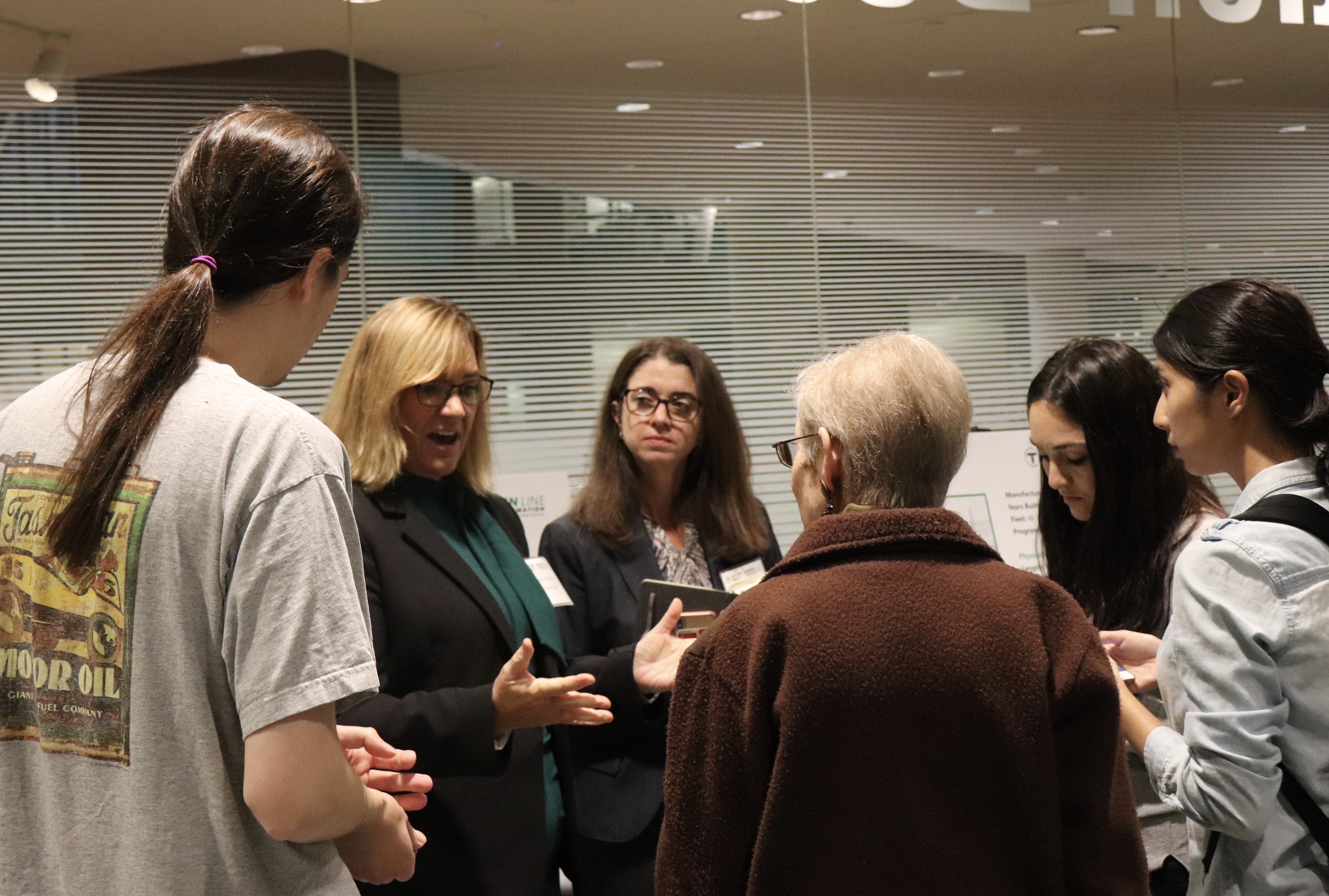 Alan Wu, a resident from Belmont, said he hopes the MBTA will be transparent about the project, suggesting that the public may notice any glitches or errors before they become problematic.
"It's very important that it roll out and work successfully from the beginning," Wu said. "If you have a lot of eyes on it and there's a mistake, chances are better that it will be found out before it becomes a problem."
Jamaica Plain resident Ralph Walton said he is most concerned about Brigham Circle, an area of Huntington Avenue in Mission Hill where the Green Line runs abreast of city buses, moving cars, parked cars and cyclists in a narrow and often-congested four lane area.
"More public good could be spent by making areas like those go faster than by making the trains go faster," he said.
Peña says the project team is looking forward to hearing more input from community members about how it can improve.
"We have a personal stake in the success of this work," Peña said. "We are committed to making this happen and moving forward."
Future public meetings about the Green Line Transformation project are scheduled for September 12 in Allston, September 17 at Boston University, September 23 in Newton and September 26 in Jamaica Plain.