Ronel Remy was once a tenant in Boston.
Not anymore.
He was evicted six times from apartments around the city, each time landing further outside Boston proper. From Somerville to Dorchester, then to Hyde Park and Roslindale, everywhere he went, it was the same story: Rents rising beyond what he could afford.
"I worked. I worked hard. I was a cook for over twenty years in the city. I couldn't cut it," Remy said.
He eventually moved into the basement of his sister's house in Randolph, Massachusetts.
"I only moved because I couldn't afford those apartments. They were too expensive for me. There was some kind of invisible hand just driving me away," who emigrated from Haiti in 1987 and moved to Boston in the early '90s.
At the time, Remy didn't understand why rents were going up. He only saw the effects on him and those around him being forced out of their apartments and homes. Now he understands why the development he once welcomed led to his eviction.
"Going around the city, you see these big restaurants, these big hotels," Remy said. "You don't think these things will affect you. You're happy to see them. Your city's nicer because of them. But those are the same things that are driving you away."
The housing market in Boston is booming. For some, this means new wealth and opportunities. But for a growing number of individuals in low and middle-income housing, the rise in property values leads to displacement. Remy, who now owns a home in Brockton, sees it daily.
The organization City Life/Vida Urbana, a 45-year-old grassroots tenants' rights movement, assisted Remy during his evictions. Now, Remy is an organizer for them, helping tenants facing building-wide clearouts and rent hikes they can't afford.
"Everybody brings something to this city, and when you let them get evicted that way, and when you refuse to let them know they have rights if they're facing eviction so they can fight back, what kind of message are you giving to them?" Remy said. "Either you're telling me I don't belong here, I'm not worth it, or I'm not on the agenda."
Evictions are nothing new for Boston tenants, but their increasing frequency points to a larger problem. As land prices rise and new residents move to the Boston area, landlords look to renovate their apartments and sell them as condominiums or charge higher rents. In order to do so, they often evict current residents of the buildings. The city doesn't track building-wide clearouts, but they appear to be on the rise. In the past five years, Vida Urbana supported tenants in 75 building-wide clearouts, many in East Boston, where they've opened a satellite office.
These evictions reflect a larger trend of displacement, reaching crisis proportions. In Boston, rents rose more than 6.5 percent over the last year according to Zilpy, a website that tracks rental market trends. In neighborhoods facing gentrification, the rent increase is worse: the average rent for a one-bedroom apartment in East Boston increased by over 17 percent in one year.
For month-to-month tenants, the reality is clear. In communities like Roxbury and Mattapan, 60 to 70 percent of tenants are "rent-burdened," meaning they pay more than 30 percent of their income in rent, according to the Boston Displacement Mapping Project. As the cost of housing continues to rise, these tenants, unable to keep up, are forced out.
This problem disproportionately harms communities of color and marginalized communities. Neighborhoods like Roxbury and Mattapan, bastions of black culture and heritage in Boston, are pricing out the residents who long called them home. Over 90 percent of the households Vida Urbana supports are households of color.
Helen Matthews, the communications director for Vida Urbana, said that real-estate based discrimination is the deepest example of institutional racism facing the city today.
"The displacement crisis is a racial justice crisis," Matthews said. "When you talk about real estate what you're really talking about is race dynamics."
Finding solutions for the growing problem has proved problematic. City Life championed a petition known as the Jim Brooks Community Stabilization act seeking to establish renter protections that would require Boston landlords to show just cause before evicting. The city council and Mayor Martin J. Walsh signed off on the petition, sending it to the state legislature. However, in July 2018 the bill was sent to study, after which no further progress was made.
Soon after, Remy broke the news to one of his clients that the bill had failed. The man, who was facing imminent eviction, had occupied an apartment near Hyde Park for 35 years, but a recent back surgery had left him barely able to stand, and not able to afford the rent his landlord had recently raised. He had hoped for legislative relief that, Remy had to tell him, would not be forthcoming.
"He gave me a look of despair," Remy said. "He said, 'I knew it wasn't going to pass. Why would the city ever give us anything? When have they ever done that? He said, 'I just hope they let me die here.' But it doesn't look like it's going to happen."
A struggle to remain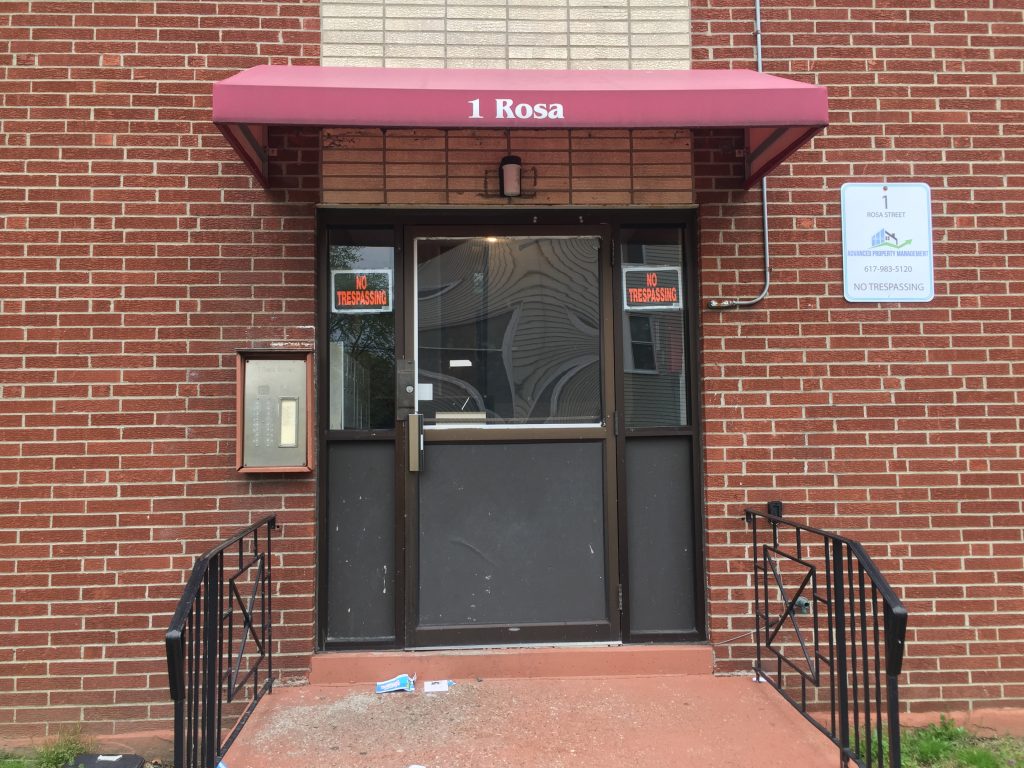 The front window of 1 Rosa Street was dark. The light in the entranceway was out and had yet to be repaired. Inside, the only light came from a light on the basement level, down a short set of stairs.
On a November evening, a dozen tenants had gathered for a community meeting just outside the teal apartment door, some sitting on the steps or peering down from next to the front door. Some lived in 1 Rosa St., others down the street. A few had lived in their apartment for 20 or 30 years. All but one had upcoming dates in housing court.
Every tenant at the meeting rented from American Property Management, a landlord company owned by Helge Capital, a real estate investment and management company. Helge Capital currently owns twenty properties in Boston, many in Hyde Park and Mattapan. The company presents itself as an emblem of the American dream: Its founder and CEO Oleg Uritsky frequently tells the story of emigrating from Russia with 60 dollars in his pocket. Its website describes the company's targets as "multifamily properties in areas currently or soon to undergo positive transformation."
Remy, as organizer, started off the meeting asking everyone to share "a rose and a thorn," one positive and one negative thing in their lives. Many the meeting's attendees shared their thanks for their families, their homes, and for the help of Vida Urbana.
But there were more thorns than roses; complaints echoed from person to person. Mice, cockroaches, and bedbugs in the apartment. Doors that wouldn't lock properly at night. And above all, the looming specter of rent increases and eviction.
Stephanie Rouse, a 10-year tenant on River Street Terrace, was one of the meeting's attendees. She received notice of a rent increase of $465 for the next year. If she does not sign the lease by the end of December, she is preparing to go to housing court.
"Last year [the rent increased] over $200, and now it's over $400," Rouse said. "If I can't pay the $200, how am I supposed to pay the $465?"
Rouse mentioned numerous problems with her apartment. She said she has been taking pictures of everything to get ready for a housing court date.
"I have a leak in my living room ceiling, and they haven't fixed it yet. The back door doesn't have a lock on it, so anybody can walk in the back door. It takes them a long time to come and fix things, two to three weeks when something goes wrong."
But as bad as the conditions are, Rouse feels that moving elsewhere is not a viable option.
"It's always really hard to try to move, because everywhere you go the rent is ridiculously high," Rouse said.
In her building, Rouse isn't the only one facing rent increases. She has heard several of her neighbors are being evicted.
"In these other buildings, people have to pay gas and lights and things like that. People have to work two and three jobs just to pay the rent."
Convincing tenants facing eviction to fight their landlord's demands is one of the biggest struggles that Remy faces as an organizer. Remy said many families see moving as their easier option rather than facing housing court, especially if they aren't aware of their rights.
Most evictions are not court-ordered. According to a Boston Globe report published in 2016, 80 percent of those evicted in Boston don't go to court. This is often because tenants aren't aware of their rights. Many can't go through the legal process of preparing for a court date.
Remy tells people at each Vida Urbana meeting to "leave your fear and shame at the door." Only by doing so, he said, are tenants able to take advantage of the help the organization can offer.
As time goes on, however, and the problem worsens, it gets harder for tenants to keep fighting.
"Folks feel deceived in many ways," he said. "They lose that drive to fight. Some of them are discouraged. I know many, many Haitians who told me they're sending stuff home, that they're going home regardless. It's not fair."
A fight for housing justice
The Jim Brooks Community Stabilization Act was a study in compromise. When it was first being drafted, it featured much stronger wording, including protections for renters that would leave landlords unable to evict without proving just cause. Slowly, through negotiation with policymakers many of the initial provisions were taken out, something Matthews regrets.
"The bill was incredibly watered down through the process of the campaign," Matthews said. "It was an incredibly uphill battle with conservative members of the City Council and the State House to win just-cause protections."
However, activist groups aren't the only ones concerned with the issue of displacement in Boston. The mayor's office is taking steps to alleviate the problem as well. In 2016, Walsh founded the Office of Housing Stability to support tenants facing displacement and inform them of their rights. According to Domonique Williams, the office's deputy director, in a Dec. 12 email, the Office of Housing Stability preserved 518 tenancies in 2017.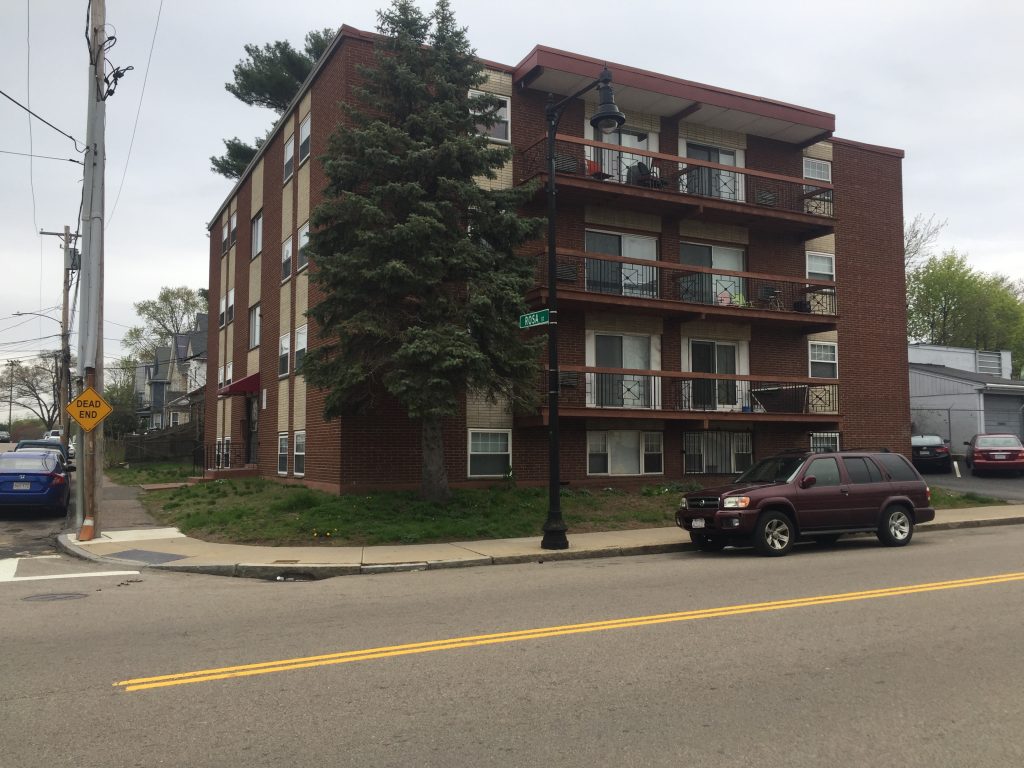 Now, in Walsh's housing plan, Housing a Changing City, Boston 2030, updated September 2018, displacement is a prominent concern. The mayor's office plans to convert 1,000 rental units into affordable housing, with long-term restrictions on affordability. Walsh also wants to impose restrictions on short term rentals, something the City Council took steps to do in June. Additionally, Walsh wants to create an "Eviction Prevention and Tenant Stability Working Group" which will study the problem and report back to the mayor's office with recommendations.
There are some signs that these efforts are working to combat the problem of mass evictions. The rate of evictions executed in court decreased by around 8 percent between 2011 and 2014, even though the number of eviction cases remained constant, according to Boston Housing Court data compiled by Project Hope, Homestart and the Dudley Street Neighborhood Initiative. The city doesn't track the evictions that don't end up in court, leaving it impossible to tell if this decrease indicates a larger trend. Still, it's a sign that the legal assistance offered by groups like Vida Urbana and the Office of Housing Stability might be starting to pay off.
But evictions continue, and it's easy to see their effects, Remy said. Homeless shelters are overcrowded. Vida Urbana has a constant stream of tenants seeking legal help.
"They say this is the American dream, that you come here, you buy a house, you have a family, you have a car, that you make it," Remy said. "The American dream has turned into a nightmare now."