Mapping Transformation: How Changing Neighborhood Identities Affect Civic Life
June 19, 2020
When Annie Le and other members of the Networking Organization of Vietnamese Americans started planning to make Fields Corner a cultural district, they turned to other Boston neighborhoods as a blueprint.
The North End and Chinatown have long been known as hubs of Italian and Chinese culture.
But it was the Fenway Cultural District, established in 1998, that was the first Boston neighborhood to be officially recognised for its artistic institutions, historic sites and parklands. It encompasses the area around Huntington Avenue, Massachusetts Avenue and the Back Bay Fens.
Then, between 2014 and 2018, the Back Bay and downtown's Literary Cultural District, Jamaica Plain's Latin Quarter, and the Roxbury Cultural District, which includes Nubian Square and John Eliot Square, were established. 
"Seeing what's available in Chinatown, and in the Latin Quarter, and seeing all the Roxbury happenings, and even in the Haitian community, they have their own thing," Le said. "I'm just like, why aren't we doing something?"
In December 2019, after months of work, including meetings and letter writing, the Boston City Council approved the group's plan for an area called "Little Saigon Cultural District" in Fields Corner –– a move that will, if approved by the Mass Cultural Society, reflect the neighborhood's population, where out of Boston's 10,000 Vietnamese residents, nearly 8,000 live.
This rebranding is just the latest of many name changes that have happened over the years in Boston that reflect changing values and demographics in communities city-wide. In December 2019, Dudley Square in Roxbury was changed to Nubian Square. Before that, in 2018, the famous Yawkey Way in Boston's Fenway Neighborhood was renamed Jersey Street. And as far back as the 1990s, Washington Park in Roxbury was changed to Malcolm X Park and New Dudley Street was changed to Malcolm X Boulevard. 
For the activists behind the changes, this rebranding often represents a desire to reclaim communities and break ties with the history of racism and slavery in America.
While some residents feel name changes are merely ceremonial and some don't even follow them, others believe the name placed on a community has a deep and lasting effect on community psyche.
Rosalyn Negrón is an associate professor of anthropology at UMass Boston who researches linguistics, race and ethnicity and social environments. She says the renaming of a community is significant, both linguistically and politically.
"Whenever you name something, you claim it as your own," Negrón said. "There's the idea that community members demand a greater say over the community and how it is shaped and how it is understood, both from the inside and from the outside."
Little Saigon Cultural District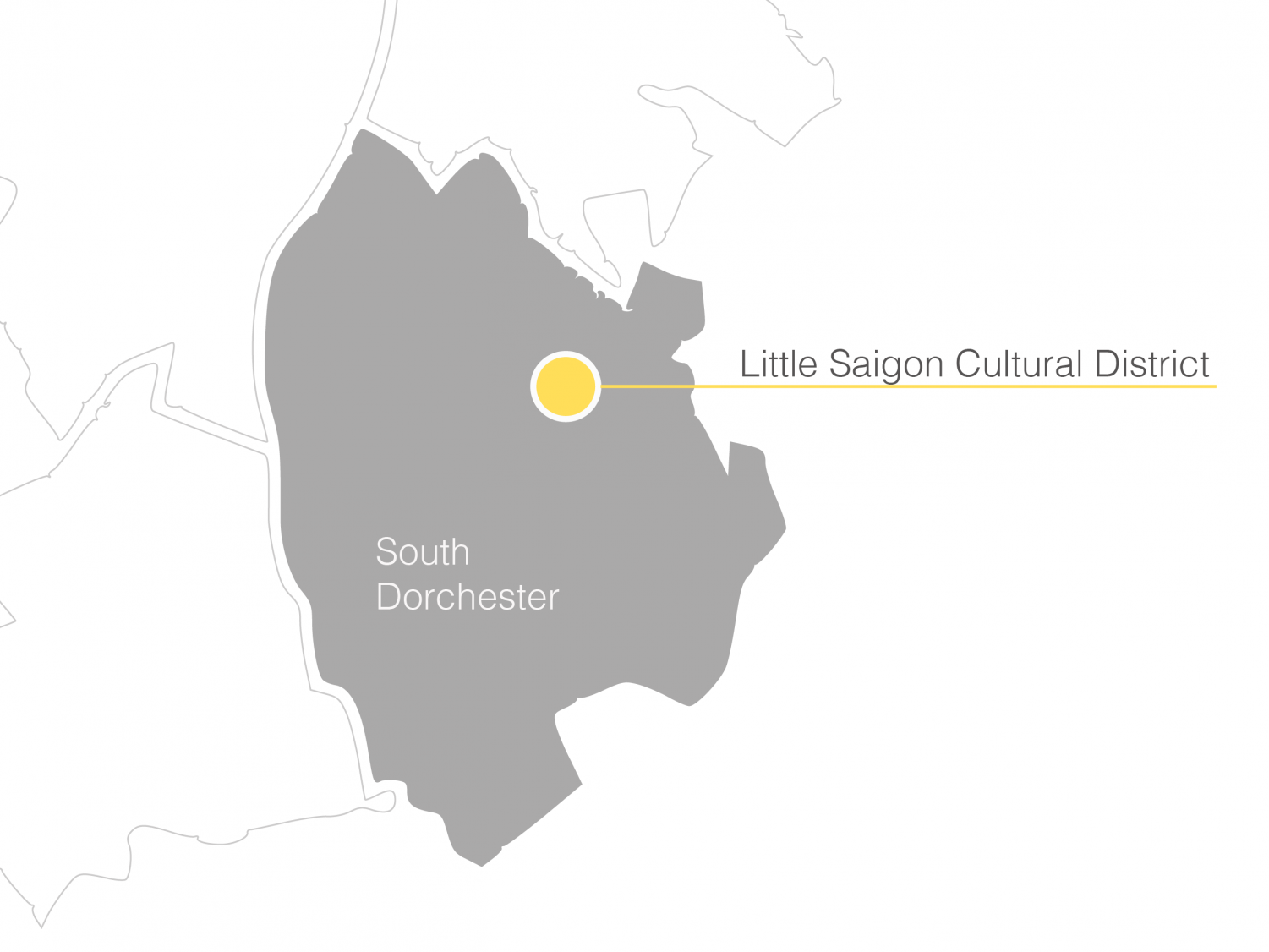 Since his first day on the job nine years ago, Boston City Councilor Frank Baker, who represents District 3 and Dorchester, said he was approached by members of the Vietnamese community seeking to create a cultural district in Field's Corner. 
It wasn't until a new generation of residents took charge about a year and a half ago that the initiative gathered momentum, Baker said.
"This new organization of younger people, they really want to feel their Vietnamese roots," Baker said. "For them, there was an urgency to celebrate who they are and where they came from."
The demographics of Dorchester's Vietnamese Americans group skew toward the younger side. President Annie Le is 35, Vice President Nina Truong is 28 and the organization's internal events coordinator, Mahn Truong, is 22. Nha Truong, the organization's youngest committee member, is only 15. 
For them, the creation of a cultural district is as much about remembering and honoring their heritage as it is about enlivening the neighborhood. The goal, despite some initial misperceptions, is not to rename Field's Corner entirely. Rather, the group wanted a cultural district designation, which would allow the area to receive state and city funding to boost tourism, business and the arts.
"When my parents took us to New York, when we were younger, there was Chinatown there, there was Korea town, and there's Little Italy. Seeing all those enclaves of cultural groups is really cool," said Nina Truong. 
Boston currently has four cultural districts: the Fenway Cultural District, Roxbury Cultural District, Latin Quarter Cultural District, and the Boston Literary Cultural District. Designated districts are popular areas of the city that boast a number of cultural facilities and programs. Cultural districts are aimed at helping strengthen local economies and adding to the area's culture.
Areas must apply for the designation, get approved by Boston City Council, and then by the Mass Cultural Council. Little Saigon has been approved by City Council, and is awaiting approval from the state, which could happen at a board meeting in either May or August.
What the Networking Organization of Vietnamese Americans found while talking to community members is that residents seemed to agree with the cultural district designation, but renaming the area was a harder selling point. They wavered between several ideas including Field's Corner Cultural District, Field's Corner Cultural Crossroads, Little Saigon Cultural District and some other Vietnamese-related names, like Viet-town.
After a group vote, they ultimately settled on Little Saigon Cultural District, mostly due to the success the name has achieved elsewhere.
In other areas around the United States, including in Orange County, California and Houston, Texas, areas designated as Little Saigon cultural districts have thrived. The moniker Little Saigon is a callback to the former name of Ho Chi Minh City, Vietnam's former capital. The name was changed by the communist government of North Vietnam in 1975 after the Vietnam War, and the country's capital is now Hanoi.
"A lot of people in Vietnam and here today, still refer to the capital city as Saigon, just to pay respect and homage to democracy and how Saigon was before the war and everyone had to flee their home country to come here," Nina Truong said. "We're trying to recreate that. People here support that name because of the meaning behind it."
According to Jackie West Devine, executive director of Field's Corner Main Streets, the name creates a uniting sense of nostalgia. 
"Little Saigon reflects a memory of a place," West Devine said, "a time before the war. It's a time before immigrants had to leave Vietnam, and I think that to the community, it reflects a neighborhood. It reflects a shared sense of nostalgia, which is largely a uniting force –– especially for Bostonians, who love nostalgia."
Ho Chi Minh City is now a metropolis of almost 9 million people, and Little Saigon is a name that incorporates both its modern feel with its rich culture and history, according to Manh Truong, the Vietnamese American group's internal events coordinator. 
"Little Saigon kind of encompasses the cultural aspect of Vietnam and Vietnamese culture, but it also has the urban-twist feel to it," he said. "Saigon is an actual city, a modern city in Vietnam, so we're kind of mimicking that vibe, and incorporating that culture here in this city. It incorporates both — it's like a hybrid of the two."
Of Boston's 9,403 Vietnamese residents, nearly three-quarters live in Dorchester. Much of the area's population came in the late 1970s after the Vietnam war, during and after bussing, according to West Devine. Much of the population of Dorchester had left, leaving vacant properties that the Vietnamese population ultimately filled.
"When the Vietnamese population came in and made Field's Corner their home, Dorchester was largely abandoned at that time," West Devine said. "A lot of the people who have been in Dorchester for 30, 40 years, are really excited about this. A lot of people have really good feelings towards the Vietnamese population, because they really saved this neighborhood in Dorchester."

"You can't just say Little Saigon, this town is not Vietnamese only. You know, everybody lives here — Chinese, Spanish, Black — everybody together."

"It helps to protect the people here. We have been here in this area for a long time, like over 30 years already. A lot of Vietnamese people live here and work here. You have a designated area here, and you have a lot of businesses that can benefit from that –– a lot of new restaurants and supermarkets opening here as well, so that would help a lot culturally."