City council race: Leon Rivera running for District 7
Santiago "Leon" Rivera, a community organizer and activist born and raised in Roxbury, is running to represent District 7 in the City Council.
Rivera is running against Angelina Camacho, Tania Anderson, Brandy Brooks,  Marisa Luse, Lorraine Payne Wheeler and Joao DePina. The incumbent councilor Kim Janey, who was also council president, is running for mayor of Boston while currently serving as the acting mayor after former Mayor Marty Walsh was selected to be a part of President Biden's cabinet as the Labor secretary earlier this year.
Rivera's decision to run for District 7 was inspired by former and late District 7 councilor Chuck Turner. As a teenager, after seeing an uptick of children hit by cars in his neighborhood, Rivera became frustrated and reached out to his then city councilor, Turner, about it. After speaking with him at his office, the next day, Turner showed up outside of Rivera's house with representatives from the transportation department. They asked him to tell them precisely what he wants and needs, said Rivera.
"I carried that [experience] with me," Rivera said. "And look at me now, running for the seat he once held."
This is Rivera's first time running for office. Still, he has helped out on many political campaigns, credits his mentorship with Turner and his own organizing experiences in the Roxbury community as motivation for running for office and wanting to make impactful change.
The Scope spoke with Rivera about the top issues identified by his campaign team and his plans to address them if elected as a city councilor. Parts of this interview have been edited for length and clarity.
Can you tell readers a bit about your backstory and ultimately what led you to run for City Council?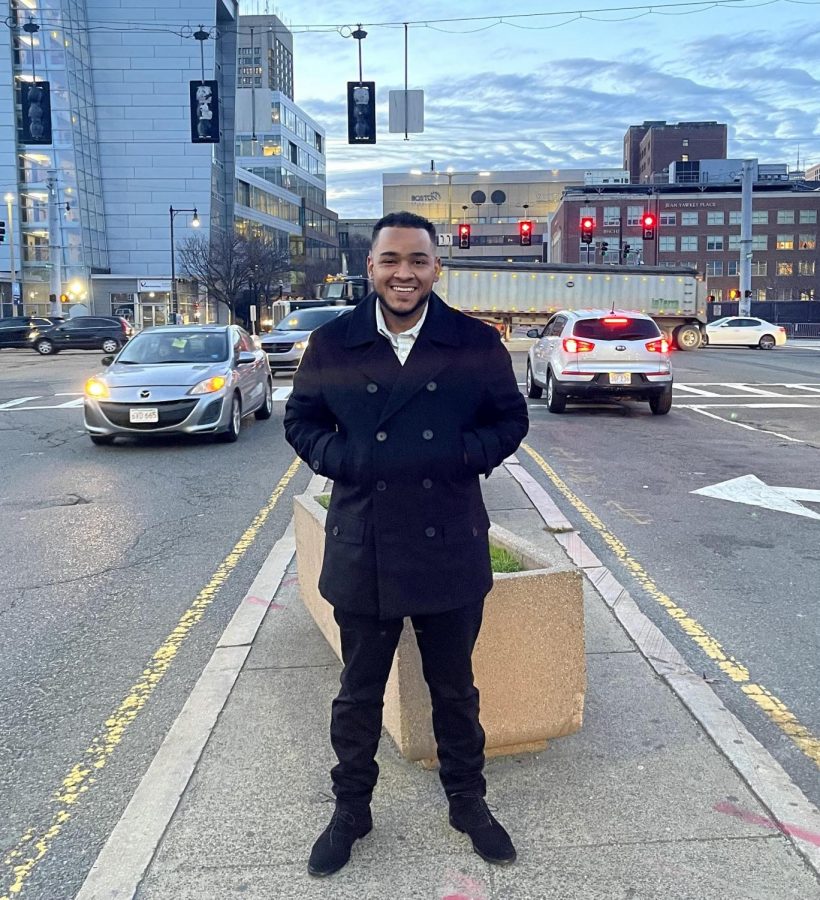 I was born and raised in Roxbury by a single mother from the Dominican Republic. I would say I started doing organizing and being involved in the community, I'd say, at least 17 years old. I first started with Chuck Turner, who was my first mentor. We had an issue on my street where we needed stop signs because children were getting hit by speeding cars, and it was actually Chuck Turner who showed me what local politics was and why it was important to get involved. From there, I started working on a number of different things. I first started with the stop signs, asking for extra trash barrels in the community, and then things got a bit larger. I started noticing throughout the years that my local parks were beginning to get infested with discarded needles. I started working at a few schools, and I noticed that kids didn't have access to clean water. I started seeing that the classrooms were in poor condition. So, all these things kept pushing me to get more involved in local politics, and the more I got involved, the more I shared with my family, friends and residents about how important it was to get involved locally. A lot of folks put a lot of attention to the presidential races, and we forget about our local races. So that's what pushed me there to get more locally involved, personally seeing firsthand. 
I decided to run because I've been one of the leading voices on the opioid crisis here in Boston for the past, let's say, seven years. I remember when the Long Island Bridge closed. I remember seeing how my community started changing little by little. We would find one or two discarded needles here and there, then as months passed, we would find 10, 20, 50 needles, and then we would see a lot of folks just sleeping in our local parks. Now we're catching people overdosing on our streets, so I took it upon myself to start organizing residents. There was a time in 2017, where there was a child that was pricked by a needle at Orchard Gardens. That was one of the schools that I attended when I was younger, so definitely, it hit home. I visited the school. I contacted some parents there, and we organized a standout to bring urgency and attention to the issue. From there on, I've sat down with state reps, city officials, the mayor, and it's been a challenging fight, and now we're here today where we've lost access to our local parks, and I feel like I could do more as a city councilor.
I've seen what I can do as a constituent and a regular resident, but I believe I could do more as a city councilor. There are ideas that I want to do that it's just really hard to do from the outside. When you're on the inside, you have more resources available, and you're able to do more. I love my community, and I see that we're heading, we're in tough shape right now. We're in tough shape, not just with the opioids crisis but with housing. I have many friends that have had to move out of the city because it's just unaffordable.
What would you say are the most important policy issues on your platform?'
I would say the quality-of-life issues, including housing, homelessness, the opioid crisis, and education. Those are really close to me.
If elected, how do you plan to achieve your goals or implement policies?
On housing, I believe I will be a strong advocate for raising the IDP. Right now, it's at 13%; I believe we should be raising it at least to 40% if we really want to make a difference for families in Boston. I also want to work with our local state representatives, senators, and even faith reps from other towns to start looking at a different formula for calculating the AMI because, right now, the income of families in Wellesley and Weymouth doesn't reflect what families here in Boston are making. I'll work with our state legislative body to find ways to calculate the AMI at a local neighborhood level, so we're actually providing housing for folks that are making $40,000 or less a year, and that's what most families make here in Boston. I also believe we have, for example, on Blue Hill Avenue, here in Roxbury, we have over 30 vacant city lots. I think that we have the opportunity to get some of these lots, reactivate them and create 100% affordable housing. I also believe that we can incentivize and make it easier for developers that commit to 100% affordable housing. Right now, it's a bit complicated to compete with these big developers who want to make market rent. Still, I believe we can provide the resources for small developers that commit to 100% affordable housing.
When it comes to the opioid crisis, there's a task force. I personally do a lot of donation drives out there. I go out there weekly and give clothes, hygiene products and different things that folks need, but I believe that the Long Island Bridge is a long-term solution. For right now, what I would do is I would activate vacant city property and work with other local state representatives and other towns to activate abandoned properties and their hotels, as well, to use for emergency recovery services until we get the Long Island Bridge situation cleared off, but that would be immediate solutions. Here in Boston, I would advocate for 24-hour outreach services, specifically in the Mass & Cass area. Right now, it's a 9 to 5. I don't think we should be treating this public health crisis as a normal business 9 to 5 thing. We need 24 hours outreach services that include mental health work. We also need law enforcement out there because we do have a lot of drug dealing out there. So, we need a combination of both.
And education, right now, I feel like we've been dealing with this for a very long time, but we have over $400 million that's coming in federal funds to BPS. This is the perfect opportunity for us to use some of those funds to ensure that our kids have a quality learning environment, and we can start by making sure that every classroom has HVAC systems. That during the winter, kids are not freezing in their classrooms, you know, making sure that our windows are working. I have an asthmatic child. So, these things are really personal. They hit home. I want my daughter and I want my neighbor's kids to feel safe in their classroom, as well, and healthy. We can just keep throwing money at the situation, but right now, with the federal funds that are coming in, I believe there's a perfect opportunity to start filling in those gaps.
How would you say that your campaign is different from the other candidates that are running for District 7?
If you take a look at my campaign, we have very low funds. 100% of our donations come from residents in the neighborhood. It's teachers, it's parents, it's neighbors and friends. That's who I'm being led by, and I think that that says a lot. I believe after speaking to so many residents of the district, I feel like folks don't want politicians anymore in office. Folks want community voices in there that will advocate for them with no strings attached, and I think that's what I offer here. There are other great candidates in this race. I've met a few people already, but I believe that my experience, just, I've been doing constituent services without the position. I've been dealing with, let's say, the sidewalks and adding speedbumps to the streets and organizing parents around parent support at our schools, you know, ensuring that folks in low-income housing complexes, getting rid of the mold and they're getting at least a good quality of life. I've been doing the work, so I'm confident that, as I said earlier, it's just a matter of access to resources. As a city councilor, I'll have more resources available to be able to do the things that I want to do.
What do you like about District 7, and what do you think can be changed?
 So, what I like about District 7 is the diversity. We are very rich in culture. We have a very strong history here, you know, Malcolm X lived here, and Martin Luther King was here as well. Our district just needs some tender loving care. If you walk to Nubian Square, you can see we have changed the name, but the disparities and inequities still exist. The area doesn't feel like a business district; that's something that I hear very frequently from business owners in the area. You ask yourself why, if we have the people, we have the energy, we have the businesses here…what's going on? I really believe that what's missing in this district is just a lot of tender loving care and providing folks with that one-on-one. I'll say this, I've spoken to many business owners in the area, and many of them missed out on those federal funds that we're helping small businesses because they didn't know how to navigate the system. So, that's something that I'm really big on in my on my platform is making City Hall accessible for everyone. It's giving those folks that one-on-one technical assistance and ensuring that I can try to bring as many city services here to the district. I would love to have City Council hearings here in the district versus just at City Hall. I think that's the way to increase civic engagement and participation for residents in our area. We have one of the lowest voter turnouts in the city. So, we have a lot of work to do. Yeah, we're in tough shape, you know, but we're strong, and I think there's still an opportunity to make a difference. We just need to give the residents a chance to actually feel important and engage and get them involved in what's happening.
Is there anything that you want to say to our readers that I haven't asked you about?
I would say, for first-time candidates, I've noticed that, for example, for me, it's extremely hard to run for office; Especially when you don't have the political background or you don't have any special interest folks backing you. I would say to readers, if you see someone that's a first-time candidate, check out their platform and see what they're about. If you like what you see, you know, it's not just a donation of $25 or $100, but maybe donate some time. Maybe knock on some doors, maybe reach out and say, "Hey, can I grab some flyers from you," and share it. It's extremely hard for us first-time candidates, and that's why I appreciate the fact that you guys reached out because it helps to spread the message and helps get folks informed.
Editors note: A previous version of this article failed to mention that Brandy Brooks and Joao DePina are also running for District 7.