City of Boston's reopening: the latest updates
Stay informed about how the City of Boston is proceeding with reopening phases with this timeline of initiatives issued by the mayor's office. We will update this page as news breaks and provide resources when available.
Read about how we're covering COVID-19 and our sustained commitment to telling stories of hope, justice and resilience.
We covered how the City of Boston has been responding to COVID-19. Now, as the city is working toward reopening and recovery, we will continue to deliver the latest updates in this timeline. 
Wednesday, Aug 12, 2020
Mayor Walsh holds a press conference discussing Boston COVID-19 rates, support for small businesses' reopening and Boston Public Schools reopening
As of Aug. 11, there were 38 new COVID-19 cases in Boston, bringing the city's total cases to 14,609. There were two new deaths, bringing the total of deaths to 743. There has been a slight uptick in positive rates from 2.1% to 2.8% in the last few weeks. But this past week, the rate went down to 2.5%. The mayor said the increases are not alarming and remain below a level that would prompt a rollback of the reopening steps the city has made recently.
The mayor cites the expansion of testing as a potential reason for the increase in positive rate and said the City is closely monitoring daily numbers. continue also to expand testing and that could be another reason why we're seeing an increase in some of these numbers. An average of 1,500 to 1,600 tests were given in Boston each day last week. "That was up 10 percent over the previous week and over 50 percent from earlier in the summer," Walsh said. A mobile testing site is now at Moakley Park in South Boston through this Saturday.
Mayor Walsh also reminded small businesses with less than 25 employees that they can apply for reopening grants at Boston.gov.
As school year is approaching, many students from other states will be coming to Boston to attend colleges, the mayor said he is "especially concerned" about colleges bringing back students from high risk states. Students are expected to self-quarantine for 14 days before coming to Boston, regardless of where they are from. They're supposed to get a test within 72 hours of coming and present it on arrival, and their colleges are supposed to quarantine them as well.
Colleges have been asked to share their testing, quarantine and safety protocols but Walsh said some have yet to file with the City. "We want to see that they're developing a mechanism to implement and enforce these requirements," he said.
Walsh said decisions regarding the reopening of Boston Public Schools are "the most important collective step before us right now." There is still no final decision on whether to start school year with all remote learning or with hybrid model with part-time in school, part-time remote, he said, but the City is getting ready for hybrid. "We're providing Plexiglas and vinyl separators, ordered 5000 pieces of Plexiglas, providing nurses rooms with properly ventilated isolation spaces," he said.
In addition, there will be new filters in ventilation systems in the classrooms, open windows, electrostatic sprayers to disinfect surfaces for every single school in the district, and sanitation stations at the entrances and exits of schools. Every school will receive a certificate of inspection by the Inspection Services Department before opening, Walsh said.
"The spring was a crisis response," he said. "This fall, there will be more plans and supports because we've had the time to sit down and work and we need to continue to sit down with all of our unions, our teachers to make sure that a month from now, however we open school, our kids are going to learn at the highest quality."
The mayor continues to urge individuals to remain vigilant to slow the spread of the virus. Wash your hands, use face covering and stay 6 feet away, especially from people who are not family members.
"People want to go out, families want to celebrate milestones. These are human needs," he said. "But we have to be clear. It's not time right now to let up. This virus is still here. We can meet the needs of our social connections in ways that can be safe. You want to meet people in parks? Meet in small groups, wear a mask. You want to go to the beach? Don't sit in areas where it's crowded, sit, away from people."
Boston Election Department announced polling location changes for 20 precincts ahead of Sept.1 State Primary
The Sept. 1 election includes the following races: Senator in Congress, Representative in Congress, Governor's Council, State Senate, State Representative, and Register of Probate. Polling locations will be open on Election Day from 7:00 a.m. until 8:00 p.m.
Saturday, Aug. 22 is the last day to register to vote and Aug. 26 is the deadline to request a vote-by-mail ballot for the state primary. Find out how mail-in voting works here. If a registered voter has not received a vote-by-mail application or lost the application, they can request a new one by completing this form and sending it to the City of Boston's Election Department.
Here are the 20 precinct polling location changes this cycle: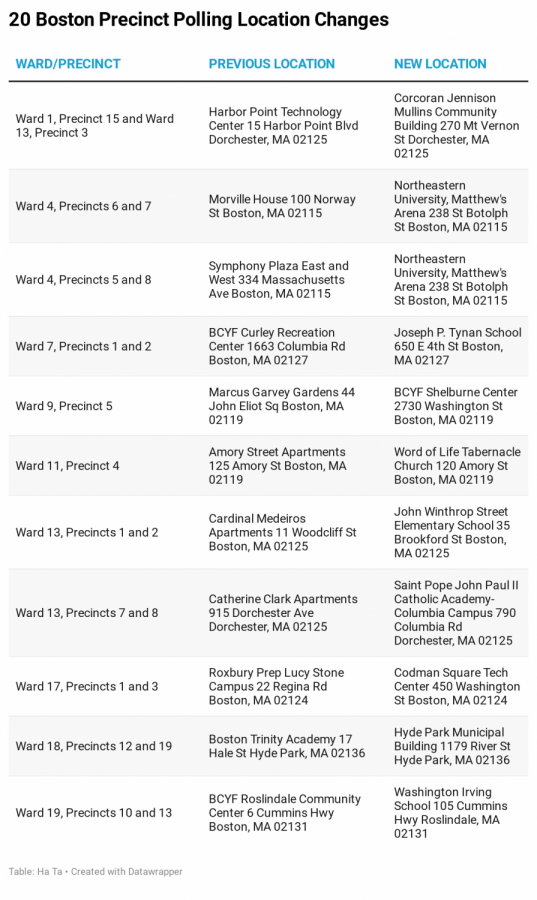 Friday, Aug 7, 2020
Gov. Charlie Baker announced step 2 of phase 3 of the state's reopening plan has been postponed indefinitely
The move follows recent increase in COVID-19 positive cases in Massachusetts. The governor also signed an updated gatherings order, effective Aug. 11, which will:
Reduce the limit on outdoor gatherings from 100 to 50 people (indoor gatherings limit will remain at 25 people)
Apply these limits to all types of gatherings, on both public and private property
Require face coverings where more than 10 people from different households will be mixing.
Monday, Aug 3, 2020
Free Pop-up COVID-19 Testing in South Boston
The 10-day popup testing site, in partnership with the East Boston Neighborhood Health Center, will be available starting Tuesday, Aug 4 to Saturday, Aug 15 at Moakley Park on Old Colony Avenue near 1187 Columbia Road in South Boston, according to the Mayor's office.
Testing will be available at no cost for both symptomatic and asymptomatic individuals by walk-up only. Appointment is not needed but individuals must register to receive test results. Residents can pre-register by calling (617) 568-4500. 
Friday, July 31, 2020
New grants by Boston Resiliency Fund to increase food security, support families, youth, seniors and homeless individuals.
Over $740,000 in grants from Boston Resiliency Fund are awarded to organizations to increase access to food, support families, youth and older adults, and assist individuals experiencing homelessness in Boston, the Mayor's office announced on Friday.
Since launching in March, the Boston Resilience Fund has distributed over $24.4 million to 328 nonprofit and local organizations to support vulnerable populations affected by COVID-19. 
The new grants will go to 21 organizations and nonprofits working to increase food access, support services for families, youth and senior citizens and assist individuals experiencing homelessness. These nonprofits and organizations include medical centers like Beth Israel Deaconess Medical Center and Bowdoin Street Health Center, youth clubs and training centers like the Caribbean Youth Club, Centro Presente and Brazilian Workers Center and organizations supporting children like Friends of the Children-Boston, among other places. A full list of organizations funded by the Boston Resiliency Fund can be found on Boston.gov.
Friday, July 24, 2020
From Aug. 1, travelers to Massachusetts must quarantine for 14 days or test negative for COVID-19
Gov. Charlie Baker announced on Friday that travelers arriving in Massachusetts or returning to the state from anywhere except lower risk states must self-isolate for 14-day or risk a $500-per-day fines if they do not comply.
The governor said lower risk states include Maine, New Hampshire, Vermont, Rhode Island, Connecticut, New York, New Jersey and Hawaii, according to a press release from Baker's office. The order applies to all visitors, students and residents starting Aug.1.
Upon arrival in Massachusetts, travellers will need to fill out a form confirming either that they will quarantine for the next 14 days or that they have received a negative COVID test result in the past 72 hours.
Thursday, July 23, 2020
Boston Mayor Martin J. Walsh today urged residents, in a number of tweets, to fill out the 2020 Census after President Trump released a memo this week seeking to cut some immigrants out of the Census population numbers. 
According to reports by CNN, the president signed a presidential memorandum on Tuesday that would exclude undocumented immigrants from being counted in congressional districts when district lines are redrawn next year. The Mayor called the move "morally wrong and it's unconstitutional" and "harmful to cities like Boston."
"Boston is a city of immigrants because Boston is a city of opportunity that is committed to making America's ideals a reality," Mayor Walsh tweeted.
He urged the Boston immigrant community to not be intimidated by the memo and instead fill out the Census by going to my2020census.gov or by calling 844-330-2020. It can be done in 13 languages, it takes a few minutes to complete, and all the information is confidential.
Friday, July 17, 2020
Mayor Walsh declares heat emergency in Boston and opens 20 community centers as cooling centers to residents
Mayor Martin J. Walsh announced that some community centers will be open to the public as cooling centers on Sunday and Monday following a heat emergency declaration in Boston.
Temperatures are expected to reach the 90s with high humidity from Sunday until Tuesday next week. Twenty Boston Centers for Youth & Families (BCYF) facilities will be open from 10 a.m. to 6 p.m. on Sunday, July 19 and from 9 a.m. to 5 p.m. on Monday, July 20 for residents to use the air conditioned rooms to cool off.
Visitors to the cooling centers will be screened before entry and must wear a face covering, bring their own water bottles and water, maintain 6 feet of distance, wash their hands often and limit belongings to one small bag. Visitors should also call before coming to confirm hours and occupancy limits. A full list of centers with hours of operation can be found on boston.gov. Tot sprays at playgrounds in the City are also open, with restrictions. Boston Public Libraries and City-operated pools remain closed to the public.
Thursday, July 16, 2020
New Boston Resiliency Fund grants to address inequities revealed by COVID-19
New Boston Resiliency Fund grants of over $1.2 million will include several investments to support Boston's Latino community, an effort by the City of Boston to address inequities revealed by COVID-19 data analysis, testing sites, and health care services.
Since March, the Fund has granted over $23.7 million to 306 nonprofit and local organizations to provide support to Boston residents most impacted by COVID-19. According to the Mayor's office, 56 percent of grantee organizations are led by a person of color and 52 percent of grantee organizations are led by a woman.
The organizations and areas for investments are identified by the Mayor's COVID-19 Health Inequities Task Force, which provides guidance to the City of Boston in addressing COVID-19 inequities. The Task Force recommended the following grants that will expand outreach and testing to support Boston's Latino community:
Greater Boston Latino Network: will receive $275,000 to provide direct support services to the Latino community and to hire bilingual Youth Outreach Workers directly from communities to work collaboratively with health care providers from East Boston Neighborhood Health Center and Whittier Street Health Center.
Whittier Street Health Center: will receive $75,000 to expand their culturally sensitive outreach, enrollment and testing efforts. The goal is to educate and engage members of the Latino community to support testing and to encourage long-term primary care relationships.
East Boston Neighborhood Health Center: will receive $70,000 to boost outreach and engagement efforts to support COVID-19 testing and contact tracing. The funding will increase internal marketing and outreach capacity to work with and educate residents in East Boston and the South End on the benefits of being tested for COVID-19.
Twenty-nine other grants were also given to organizations serving different neighborhoods in Boston. For a complete list of grants, please visit boston.gov.
Summer Youth Jobs program includes new "know your rights" resource guide and paid college learning opportunities
A "Learn & Earn Career Development Internship" that pays participants for college-level coursework and an online resource guide on workers' rights are added to this year's Summer Youth Jobs program thanks to an increase in funding, Mayor Martin J. Walsh announced.
The programs are aimed to prepare Boston youths to enter the workforce especially after the societal and economic disruptions caused by COVID-19.
The Learn & Earn internship pays youths an hourly wage of $12.75 for 25 hours per week for their participation in college-level courses that could lead to a career pathway. The 25 hours include class time and homework, group study sessions, and a job readiness and financial education curriculum led by a career coach. The internship will be held virtually and runs from July 13 to August 21 for most participants, according the Mayor's office.
The 26 available classes, spanning subjects such as business, communications, early childhood education, human services, social sciences and technology are offered by Benjamin Franklin Institute of Technology, Bunker Hill Community College, Roxbury Community College and Urban College of Boston. So far, 500 participants have been enrolled in the internship program.
Most of the classes confer 3 to 6 college credits, which provide a head start to a college education for high school juniors and seniors. For program's participants who are high school graduates or HiSET/GED completers up to age 24, the classes can serve as a gateway to college or a continuation of their classwork toward a degree.
The Summer Jobs Program also offers online resources for youth employees who are new to the workforce. The resources cover technology access and COVID-19 safety protocols, job training, education opportunities and a Know your rights guide, compiled by the Massachusetts Attorney General's Office, to familiarize young people with their rights and responsibilities as workers.
Tuesday, July 14, 2020
Ordinance allowing plastic bags extended to Sept. 30

The executive order by the City of Boston to exempt all establishments from the plastic bag ban ordinance will stay in effect until Sept. 30. The five-cent per bag fee will also not be in effect, Mayor Martin J. Walsh announced. This transition period is aimed at enabling stores to use up single-use plastic bags purchased during the emergency. However, Boston residents are now able to use reusable bags if they would like to.
All provisions of the plastic bag ban ordinance, including the elimination of single-use plastic bags and the five-cent fee requirement will come back into effect on Oct. 1.
New project from the City of Boston to help residents with criminal records gain access to jobs, housing, education.
The new pilot initiative, called Project Opportunity, is aimed to help residents seal, erase and manage their criminal records to gain access to better jobs, housing, and educational opportunities. The initiative will connect residents with legal services and job-training programs among other things, Mayor Walsh announced.
Criminal records (CORIs) prevents people from getting jobs and it affects people of color disproportionately. Black men with a criminal record are less likely than white men with a criminal record to receive a callback or job offer, according to a research conducted in New York City. This affects both the individual and society as stable employment is one of the most important factors in preventing a person's relapse.
New pathways to sealing and expunging CORIs have opened thanks to Massachusetts legislative reforms in recent years. As of 2018 most felony cases can be sealed after seven years, and most misdemeanors after three. Cannabis charges can now be expunged from one's record, according to the Mayor's office.
The pilot initiative Project Opportunity will:
Connect residents with free legal consultation to determine if their CORIs are eligible for sealing or expungement;
Cover the filing costs of sealing or expungement;
Connect residents with employment opportunities, job training and services such as housing, food access, and transportation;
Train City of Boston departments working with residents with CORIs.
Convene experts to discuss CORI-related challenges and potential solutions;
Friday, July 10, 2020 
Phase 3 reopening guidance for indoor fitness, outdoor events and performances and tourism
Mayor Walsh announced today industry-specific reopening guidance for some businesses included in Step One of Phase 3 of Massachusetts' reopening plan beginning on Monday, July 13 in Boston. The guidance includes event capacity limitations, social distancing, operational requirements, and health and safety guidelines.
From Monday, the City of Boston will begin issuing permits for up to 50 participants for outdoor events on City property and events requiring Special Events Committee review and approval. Low and moderate contact amateur sporting events, such as baseball and softball (with a maximum of 50 participants including players, coaches, and spectators) are also eligible for permits from the Boston Parks Department. Permits for high-contact sports such as basketball, lacrosse, and football will be available at a later date.
Mayor Walsh announces start of in-person summer youth programming for Boston Centers for Youth & Families 
Online registration is now open for free City-operated summer youth programs and classes for Boston youth ages 7 and above. All classes are designed and will be operated in accordance with current public health guidelines.
Due to COVID-19, all Boston Centers for Youth & Families (BCYF) community centers have been closed for in-person programming and recreation, except for some locations serving as meal sites only. But programming is now available for registration at Boston.gov/BCYF-Summer. The free programs including arts, computer activities, recreational programs, virtual field trips and workshop are available and will be held both remotely and in person at BCYF community centers. BCYF centers and indoor pools will be available only for youth during registered in-person summer programming, following public health guidelines, according to the City of Boston's announcement.
As more programs and activities are finalized they will be added to the boston.gov website and available for registration.
Overnight camps will not be permitted until Summer 2021. Following state regulations, there can be no field trips for current summer day programs, activities and enrollment are restricted, volunteers and visitors are not allowed, no outside groups can come to centers and there are strict cleaning and sanitation guidelines.
The City also continues to distribute meals to youth throughout the summer as part of the Boston Summer Eats program. A map of meal locations can be found here.
Mayor Walsh and the Boston Housing Authority to extend nonessential eviction moratorium through the end of 2020.
The Boston Housing Authority (BHA) implemented the moratorium in March to create stability for public housing residents and reduce coronavirus risks associated with the processing of nonessential eviction cases. Authorities defined "nonessential evictions" as all eviction proceedings except for those related to criminal activity and those necessary to protect the health and safety of residents or employees.
During the COVID-19 pandemic, an estimated 18,000 households in Boston are currently having a difficult time paying their rent, according to the Metropolitan Area Planning Council.
BHA residents or voucher holders unable to pay rent during the pandemic should notify their housing manager or landlord in writing (through text, email or printed letter) and establish a repayment plan, according to the Mayor's office. The current moratorium is temporary and tenants are still required to perform their contractual obligation to pay their rent.
Residents or voucher holders facing financial hardships must reach out to their voucher provider or BHA to recertify their income and reduce their monthly payment. Rent assistance is available through the state's homelessness prevention program RAFT, according to the Mayor's office.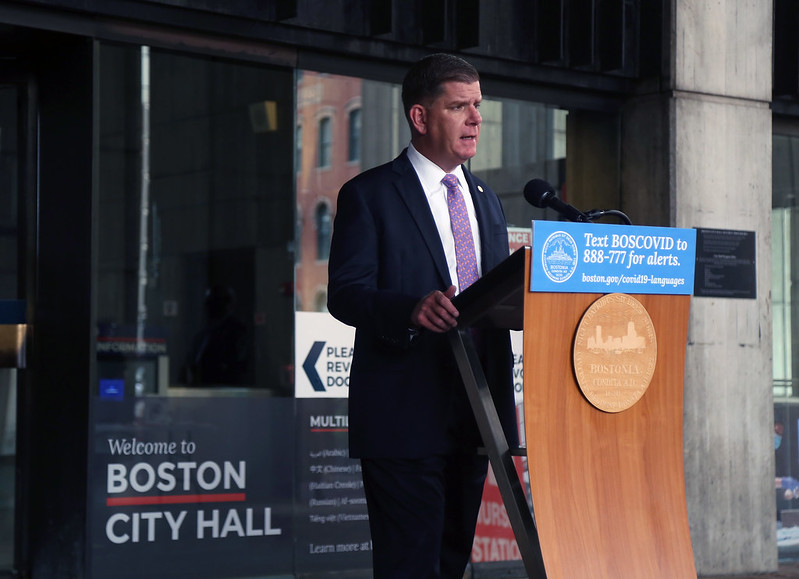 Free 90-day Bluebikes pass for essential workers
To support a safe reopening for small businesses, BlueBikes, a publicly-owned bike share system in Boston, is offering free 90-day passes to all essential workers in grocery stores, pharmacies, restaurants, and local retail shops, Mayor Walsh announced.
Pass-holders will be able to take unlimited trips during the 90-day period, however, to avoid usage fees, the length of the trips must be within 60 minutes. Riders are responsible for any fees and for bikes that go missing during their rental period and are not obliged to continue paying for the pass once the free 90 days are over, according to the City's announcement. Essential workers can fill out a form on boston.gov to sign up for the pass.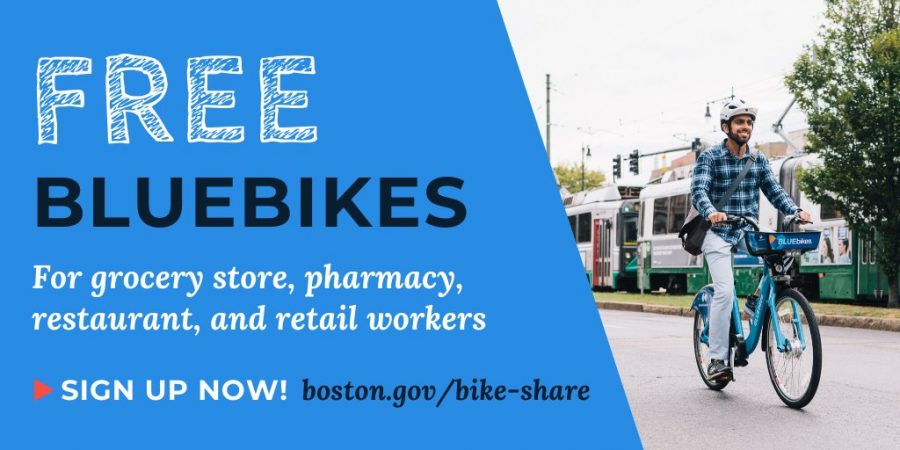 Tuesday, July 7, 2020
$6 million in new grant funding to support safe reopening of nearly 1,700 small businesses
Funding to support small businesses impacted by COVID-19 totalled over $13.5 million in city, federal, and private funding.
Debt-free grants totalled $6.1 million have been distributed to 1,685 small businesses in every neighborhood across the City of Boston through the Small Business Relief Fund. The businesses receiving grants represent industries most impacted by COVID-19 including healthcare, accommodation and food service, retail, arts and entertainment, transportation, construction and other services throughout neighborhoods in Boston. In May, nearly $4 million in grants was distributed to over 1,100 small businesses.
Of the businesses receiving the $6.1 million grants, 69% have five or fewer employees, 50% are owned by people of color, and 47% are immigrant-owned, according to the City of Boston.
The City of Boston also provides guides and resources for small businesses impacted by COVID-19, including a new platform to advertise and purchase PPE and cleaning supplies or platforms which helped businesses to publicly share that they are open and direct residents to support local establishments like Open Businesses in Boston and Support Boston Restaurants. 
New ramp initiative to increase accessibility to outdoor dining seating
Restaurants that have been granted a temporary license to have seating in a parking space or on the street are eligible to request a portable ramp, Mayor Martin J. Walsh announced.
To request a ramp, restaurants who have filed for outdoor seating can fill out the Portable Ramp Request Form. The City will provide ramps on a rolling basis, along with a manual with information on how to set up the ramp, a laminated sign with information on accessibility, and best practices on providing service to customers with disabilities, according to the announcement. Ramps must be returned to the City at the end of the season.
---
Monday, July 6, 2020
Step 1, Phase 3 of reopening will begin and updates on gatherings will be in effect for most of Massachusetts on July 6. For the City of Boston, Phase 3 and the revised gatherings order will take effect on Monday, July 13.
Businesses eligible to reopen in Step One of Phase III:
Movie theaters and outdoor performance venues;

Museums, cultural and historical sites; 

Fitness centers and health clubs;

Certain indoor recreational activities with low potential for contact;

Professional sports teams, under the authority of league-wide rules, may hold games without spectators
Revised Gatherings Order: 
Indoor gatherings are limited to eight people per 1,000 square feet, but should not exceed 25 people in a single enclosed, indoor space.
Outdoor gatherings in enclosed spaces are limited to 25 percent of the facility's maximum permitted occupancy, with a maximum of 100 people in a single enclosed outdoor space. This includes community events, civic events, sporting events, concerts, conventions and more. This order does not apply to outdoor, unenclosed gatherings if proper social distancing measures are possible.
This revised order does not supersede previously issued sector guidance, and is effective beginning Monday, July 6. It will be effective Monday, July 13 in the City of Boston.